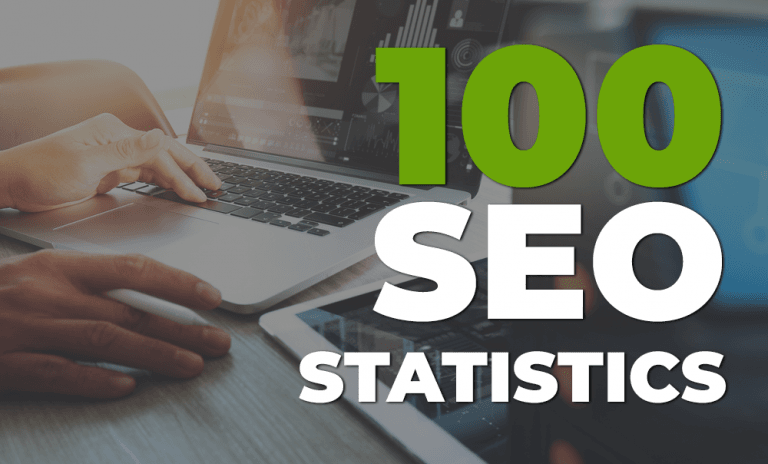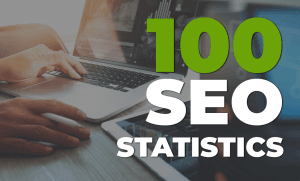 Despite what you have heard, search engine optimization (SEO) isn't dead.
No matter the size or scope of your business, SEO is an essential component for operating online in 2022 but many organizations struggle to validate SEO as a revenue source.
SEO algorithms are constantly changing and this means that certain SEO methods become more powerful than others. It is important for institutions to understand these changes to avoid penalties.
To make your job easier, we compiled SEO statistics that every business owner should know in 2022. These SEO statistics give insight into the power of effective search engine optimization.
Continue reading below for 100 of the most insane SEO statistics of the year.
General SEO Statistics
1. 75% of people do not scroll past the first page of search results
2. On average, there are 1,890 words on the first page of a Google search.
3. Roughly 81% of consumers conduct Internet research before making large purchases.
4. 61% of consumers perform research online before making purchases.
5. 70-80% of people ignore paid search results and only click on organic search results.
6. Search engines generate roughly 93% of all website traffic.
7. The first organic Google search receives 32.5% of the average share of traffic.
8. Organic traffic accounts for over 40% of all revenue.
Organic traffic accounts for over 40% of all revenue.
Click To Tweet
9. On average, Google displays 8.5 organic search results on the first page.
10. 43% of consumers research products online while still shopping in the store.
11. 47% of consumers view up to 5 pieces made by a company before speaking to a salesman.
12. Mobile searches generated 73 billion calls in 2018.

13. In 2016, companies spent approximately $65 billion on SEO. Analysts project this figure increases to $79.27 billion by 2020.

14. 72% of marketers on the Internet state SEO is the most effective tactic for content marketing.
15. 57% of marketers state no other marketing tactic compares to the leads generated by SEO.
16. Leads from SEO drive a 14.6% average conversion rate, while those generated from traditional strategies have a 1.7% average conversion rate.
17. Searches in the "___ to avoid" format increased by 150%.
Local SEO Statistics
According to Google, consumers want to see results based on their location because they are relevant to the consumer.
After recent updates to the search algorithm, this preference is a major factor in driving SEO. Failing to take consumer preferences into consideration will result in a substantial decrease in your organic search position. Competitors can use this to their advantage when they change their SEO tactics.
The following SEO statistics highlight the important role of local SEO:
18. 46% of Google searches relate to local businesses and events.
19. 92% of people select local businesses that appear on the first page of search results.
20. 28% of local searches end in a sale.
21. 70% of shoppers visit a store because of online research.
22. 72% of searchers who conduct a local search will visit a business that is within 5 miles of them.
23. 73% of consumers will trust an organization if it has positive reviews online.
24. 88% of customers trust reviews online as much as they trust personal recommendations.
25. 78% of local smartphone searches yield a sale offline.
26. 4 out of 5 people prefer advertisements customized to their location.
27. 8% of local mobile searches resulted in a purchase within one day.
28. 1 out of 3 searches are conducted on mobile devices prior to visiting a store.
1 out of 3 searches are conducted on mobile devices prior to visiting a store.
Click To Tweet
29. Within 24 hours, 88% of customers interact with local businesses after searching for them online.
30. 97% of consumers look on the Internet to find out more about a local business.
Mobile User Search Behavior Statistics
The use of web browsing on mobile devices has been increasing consistently since 2009, surpassing desktop browsing in 2015. Recent studies further highlight the importance of mobile devices for in search behavior.
The following statistics show the impact of a mobile-focused web presence on a business's sales and profitability:
31. 21% of searches yield extra clicks on Google's search results.
32. 61% of mobile consumers are more apt to contact a native business if its mobile site is SEO optimized.
33. 40% of mobile web visitors leave a website if it takes longer than 3 seconds for the page to load.
34. Consumers use smartphones for searches more than they do desktops.
35. 79% of consumers use their smartphones to take before purchasing an item.
36. The average person uses 3 words when conducting a search.
37. 65% of consumers use their smartphones for spur-of-the-moment purchases.
38. Smartphone purchases accounted for 40% of e-commerce sales in 2018.
39. In 2018, adults in the U.S. spend over 3 and a half hours on their smartphones per day.
40. Smartphones account for 69% of the time spent on digital media devices.
41. 51% of consumers are likely to buy items from mobile devices if the website is SEO optimized.

42. 27% of people online use the voice search function on mobile devices globally.
43. The most important feature for users on mobile websites is a list of products.
44. Mobile e-commerce is projected to drive 54% of sales by 2021.
45. Smartphone users are 69% more likely to buy from businesses with websites that can answer their questions.
46. 60% of searches conducted on Google happen on mobile devices.
47. There will be 221 million smartphone search users in the U.S. by 2020.
Link Building Statistics
Link building is a core component of SEO campaigns and strategies.
The rules concerning link building constantly change as algorithms change. Links are seen as a mark of validation, but the type of link is more important than the number of links. Previously, spam links were used to improve a website's search position. Today, this tactic is illegal, and perpetrators are penalized.
Link building has become more complex and difficult but is still critical in the SEO process. Marketing agencies understand the laws and can be valuable assets in creating SEO strategies. The following statistics and facts highlight the importance of link building.
48. 65% of marketers believe link building is the most problematic SEO tactic to finish.
65% of marketers believe link building is the most problematic SEO tactic to finish.
Click To Tweet
49. 41% of large corporations deem link building as the most challenging SEO tactic.
50. Backlink trends in Google's searches peaked in 2011 and again in 2017.
51. Businesses with blogs receive 97% more backlinks than those without.
52. 53% of businesses dedicate no more than a quarter of their SEO budget to link building.
53.35% of businesses spend no more than $1,000 per month on link building.
Google Statistics
Google dominates the realm of search engines. For this reason, many companies conduct SEO campaigns that are primarily focused on Google.
While some businesses prefer to focus on other search engines due to the lack of competition, Google's position in the market means these businesses are missing out on a substantial resource.
The following statistics highlight the importance of using Google-focused SEO campaigns:
54. As of 2016, Google is aware of 130 trillion webpages.
55. Over 1 billion people use Google's search engine in a month.
56. In the U.S., users conduct approximately 40-60 billion Google searches every month.
57. Google holds 81.12% of the search engine market share.

58. 15% of daily searches on Google have never been searched for before.
59. 3.4% of distinct Google searches resulted in clicks on paid Adwords advertisements.
60. The average Google search lasts less than 1 minute.
61. 66% of distinct Google searches result in 1+ clicks and 34% of searches result in no clicks.
62. 30% of mobile Google searches regard a location.
63. The first Google result conducted on a desktop search has a 34.4% click-through rate.
64. Businesses with video on its landing page are 53% more likely to appear on the first page of a Google search.
Businesses with video on its landing page are 53% more likely to appear on the first page of a Google search.
Click To Tweet
65. 80% of users ignore advertisements on Google.
66. 0.9% of Google search results involve a click on Google Maps.
67. YouTube accounts for 1.8% of clicks on Google search results.
68. Twitter block results account for roughly 0.23% of clicks on Google search results.
69. Links in the Knowledge Graph account for roughly 0.5% of clicks on Google search results.
70. Image blocks account for 3% of clicks on Google search results.
71. Personalized Gmail results account for 0.55% of clicks on Google search results.
72. 11.8% of clicks from discrete Google searches yield a click on a Google property.
73. Clicks on Google search results on mobile devices are 40.9% organic, 2% paid, and 57.1% involve no clicks at all.
74. Clicks on Google search results on desktop devices are 62.2% organic, 2.8% paid, and 35% involve no clicks.
75. 25% of Google search volume does not involve the top 100 million keywords
76. 56% of businesses have not claimed listings on Google.
77. SEO statistics show that 82% of companies have not claimed listings on Bing.
Content Marketing Statistics
Content creation is a pillar of search engine optimization.
Previously, keywords were introduced as the backbone of SEO. This led creators to squeeze as many keywords into content as possible. This decreased the quality of the content. In response, Google changed its strategy to penalize websites with low-quality content, arguing that useful information is the most important aspect for visitors. Quality content has profound impacts on marketing campaigns and SEO strategies.
The following content marketing statistics highlight the importance of marketing quality content:
78. Improving content drives web traffic by as much as 2,000%.

79. 81% of businesses think blogs are important for their marketing.
80. 72% of e-commerce marketers deem content creation as the most successful SEO method.
81. Companies with a blog have 434% more search engine-indexed pages than others.
82. 45% of companies cite content marketing as integral to their SEO strategy.
83. SEO produces roughly 20 times more traffic opportunities than PPC does on both desktop and mobile devices.
84. 91% of people aged 18 to 34 trust positive reviews found online.
85. 38% of marketers publish original content online at least once a week.
86. Blogging is the most used method for contact marketing.
87. 75% of marketers outsource content creation to copywriting agencies.
88. Replacing old content with new content can improve traffic by more than 100%.
Video Marketing Statistics
89. Search traffic can double if video thumbnails are in your search results.
90. Video content is 50 times more likely to drive organic search results than plain text alone.
Video content is 50 times more likely to drive organic search results than plain text alone.
Click To Tweet
91. 85% of US internet traffic will surround video.
92. 80% of people will watch a video on a page, but only 20% of people will read text on a page.
93. Video emails have click-through rates that are 96% higher than those that do not.
Social Media Statistics
SEO has a major impact on social media. SEO is integral to Google's algorithm, and marketers are beginning to include it in their plans. Clear links between social media accounts and websites is important for connecting pages. Social media pages and discussion with keywords also impact organic search results. Forgetting or neglecting to include social media in SEO strategies is indeed a mistake.
The following social media statistics highlight the importance of SEO strategies.
94. 58% of marketers using social media for at least a year saw their search engine rankings improve.
95. 71% of customers recommend brands to other people if their social media service experience was good.
96. 40% of consumers spend more money on companies and organizations with an engaging social media presence.
97. 82% of marketing agencies and 74% of businesses have either somewhat or highly integrated social media strategies.
98. 86% of women review products or services on social media before deciding to buy.

99. LinkedIn is the most effective social media platform for sending content and engaging audiences (81%), followed by Twitter (66%), YouTube 964%), and Facebook (41%).
100. Blogs with images receive 94% more views than those without.
SEO Wrap Up
Search engine optimization is complicated, which is why accurate information is important. As Google continues to change its algorithms, you must be prepared to adjust your SEO strategies accordingly. Appearing on the first page of search results is critical, but doing so properly bears even more importance. Failing or neglecting to properly update On-Page SEO strategies could have deleterious consequences.