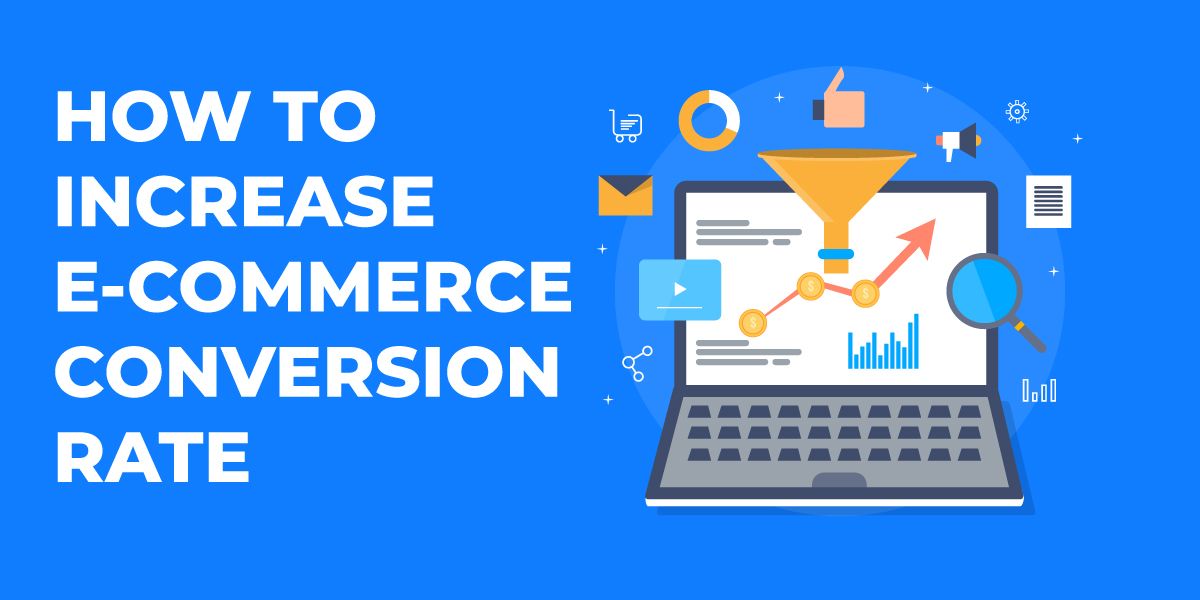 If you run an online e-commerce store or website then you probably know how important your conversion rate is.
Your conversion rate can be the difference between making no money and making a lot of money.
You can get all the traffic you want from cannabis marketing but if your website doesn't convert well, nobody is going to buy your products.
But lucky for you, I am going to show you some great ways to increase your conversion rate and get more orders and fewer bounces.
What is the Conversion Rate?
Conversion is a simple formula to determine how well your website converts on a number of different actions including:
Lead Forms
Purchases
Contact Us Forms
Email Op In Forms
Newsletters
Giveaways
Free Trials
But in this case, the conversion rate pertains to an e-commerce sale on your website.
To calculate the conversion rate, you take the total number of conversions divided by the total number of visitors.
For example, let's say you get 100 visitors a day to your e-commerce website. If 1 person buys a day, on average, then your conversion rate would be 1%.
1 / 100 = 0.01 * 100 = 1%
So, what's a good conversion rate?
That depends on your site, industry, niche, and how well you follow the below techniques to increase your e-commerce website conversion rate.
But typically a conversion rate between 2% and 5% is good according to Wordstream.
How to Increase Your Conversion Rate
There are a number of ways that you can increase your website's conversion rate.
Implementing all or some of these can greatly increase your CTR and get you more sales to your e-commerce store.
Here are some of the best ways to optimize your website for higher conversions:
Website Tracking
This one may be somewhat obvious but a lot of e-commerce owners are not tracking their traffic and user actions taken on their site.
This is the most important data that you have to generate actionable plans to increase your conversions.
Google Analytics is a completely free tracking software provided by Google that allows you to see a treasure trove of data about your website's visitors.
To start tracking e-commerce revenue in Google Analytics, do the following:
Step 1: Install Google Analytics
The very first thing you will need to do is install Google Analytics.

Create a free Google Analytics account and click add a new property.
Step 2: Enabled Ecommerce
Now that you have Google Analytics installed and set up, you will need to enable the E-commerce feature in the Analytics settings.
Click the Admin icon on the bottom left corner of Google Analytics. Under the View settings, click the Ecommerce Settings tab.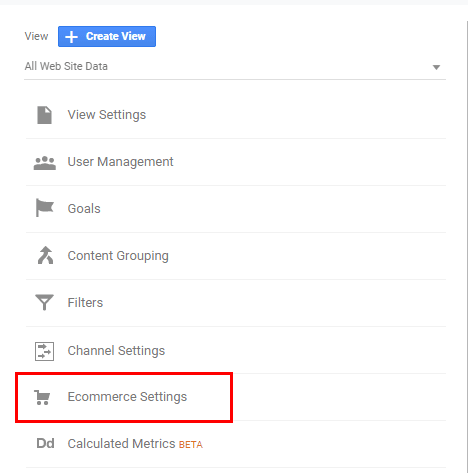 On the ecommerce settings page, all you have to do now is click the Enable Ecommerce button to turn on the ecommerce tracking.

Now that e-commerce is enabled in Analytics, you will have to set it up on your store as well.
Step 3: Set up Conversion Tracking
Setting up E-commerce tracking in your store should be quite simple.
If you are using a CMS like WordPress or Shopify to run your e-commerce store, you can set up the tracking code very easily.
For WordPress/Woocommerce, you can simply install a plugin called Enhanced ecommerce Google Analytics Plugin. Simply install the plugin and then add your Universal Tracking ID to begin tracking your e-commerce transactions in Analytics.
Now, you can view a ton of great data about where buyers are coming from, how long they spend on your site, and other great information to increase your conversion rate.

Just head to Conversions->Ecommerce in Analytics to view your data. You can now see revenue data for each traffic source, each page and conversion rates as well!
Increasing Website Speed
Have you ever went to buy something on a website, but it was taking forever to load? Or maybe you were just trying to read some information but it wouldn't load.
What did you do?
You most likely left that website, went back to Google and then clicked the next listing. That is why having a super-fast website is very important for having a good conversion rate.
Most of the time, slow page speed issues are due to hosting. If you are on a shared server like Godaddy or Hostgator, you may experience slow load times because there are hundreds of other websites on the same server, fighting for resources.
Sign up to a fast host like Siteground or Bluehost and most of your speed issues will be solved.
Testing Your Website Speed
To test your website's speed you can use a number of speed test tools like:
These will tell you what is causing your slow loading times and how to fix it. You should be getting a page-load speed of 5 seconds or under for ideal conversion rates.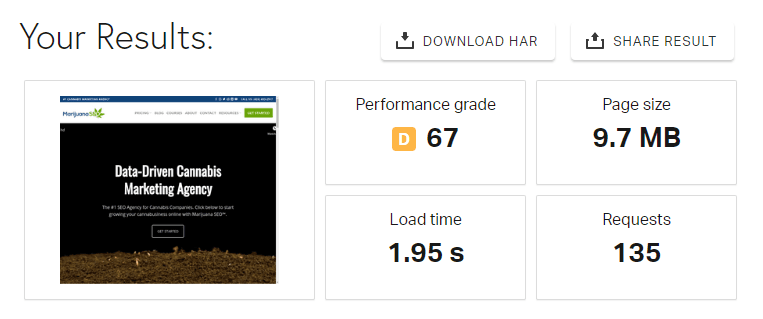 You can now also look at the new Google Search Console to see speed data for your website.
In November 2019, Google just added site speed statistics to the Google Search Console so let's look at how to use this data.
Login to the Google Search Console and click the 'Speed' tab on the left.
If you have any pages that Google deems 'slow', they will be shown on this page. You can see both mobile and desktop speeds but they are only categorized as slow, moderate and fast.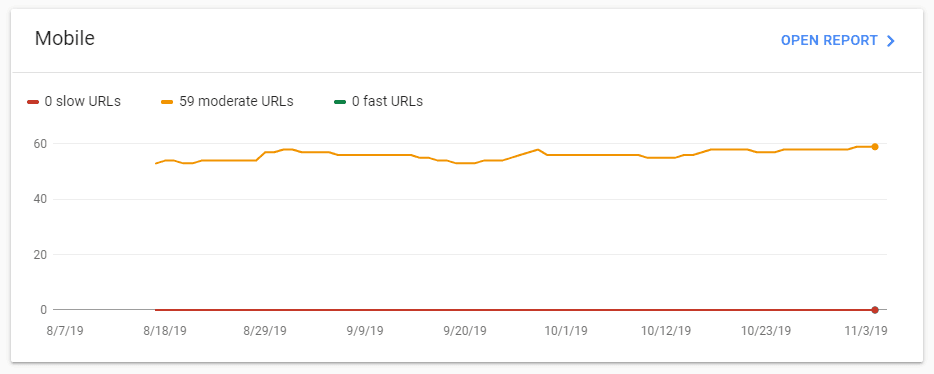 If you are wanting even more speed increases you can do the following:
Caching
Caching dynamically saves a web page to the server in HTML form so its less in size and doesn't have to load all the scripts and resources every time.
I know, caching sounds very difficult to do… but it can be quite simple.
WordPress users can download a plugin called W3 Total Cache that can speed up your website 30-40%.
Image Optimization
Image size is also important when it comes to page speed.
Creating your images with the lowest file size possible will help the user experience of your website by allowing your visitors to load images fast without waiting.
When someone lands on your website and images don't load, it's likely they will leave fast, which will hurt your SEO and conversion rate.
So how can you make your images load faster?
Crop images to the max length of your content area (for example if your website is 1028px wide, none of your images should be larger in width than 1028px)
Reduce the quality of the image enough to reduce file size but keep a good quality photo
Use .PNG when possible since they are smaller than JPEGs
Show thumbnails and link to the larger image
You can also use free tools like PunnyPNG to compress your images making them smaller in size.
CDN
Using a CDN is another way to speed up your website.
CDN stands for content delivery network and its a group of servers that deliver web pages or web content to a user based on their geographical location.
Using the same W3 Total Cache plugin I mentioned before, you can upload and enable a CDN for your WordPress website.
Here is a list of some great CDN's you can use to speed up your website:
CloudFare
Amazon CloudFront
Sucuri
CacheFly
StackPath
MaxCDN
Once you have a CDN set up, you should see a good improvement in load times.
Clear Call to Actions
Having a clear and concise call to action on your landing pages will help convert lookie-loos into buying barbaras.
What is a call to action you are wondering?
A call to action is a term in marketing that means to prompt a response, lead capture or imidate sale.

On your ecommerce website, a call to action can be:
Download
Buy Now
Watch Video
Contact Us
Subscribe
Join Newsletter
Having clear calls to action throughout your website that direct users to buy your products, will increase your conversion rate tremendously.
Your call to action should be ATF (above the fold) on your page so that when a user lands on that page, they don't have to scroll to take that action. Here is a great example from Chewy that shows a clear shop now button under a deal or coupon code.

Not only that but their product pages are very optimized so that their call to actions stand out clear and concise.

Color is another important factor when building a call to action because if people can't find the 'add to cart' button they are less likely to buy!
Oranges, reds & blues all have a higher click-through rate than most other colors so use those as your call to action button colors and try and stick with a white background. Make sure your price sticks out and that your ratings are clearly seen as they strongly increase conversion rate (which I would get into later in this article).
You will want to A/B test different colors and layouts as well but I will get into that later in the article as well.
Before that, you will want to make sure that your website is mobile-friendly.
Mobile-Friendly Design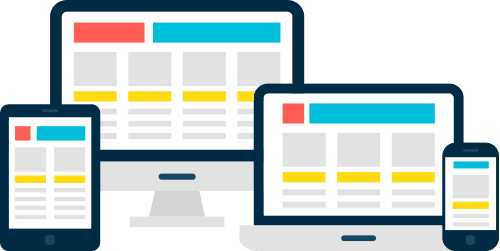 Mobile-Friendly Design design revolves around the reformatting of layout, text, and images on a website and makes it easier for visitors to navigate websites on different devices, no matter what the screen size is.
No matter what device the customer is using, the website should be able to automatically switch between an iPhone and desktop computer and navigate through the website with ease.
If your ecommerce website does not work on mobile, you are probably losing a lot of customers since 80% of people are browsing on a mobile device.
Most modern E-commerce CMS have a mobile-friendly design implemented but double-check that your website is user-friendly on every device.
You can use a free tool like Browsershots to check how your site looks on a number of different devices.

It can become quite a feat to make it look perfect on every single device but try and make sure it works on the most modern devices.
A/B Testing
A/B testing can be a very powerful way to optimize your website for conversions.
With A/B testing, you put up 2 (or more) pages against each other to see how they match up conversion-wise. The winner (one with the highest conversion rate) would then be implemented as the winning page.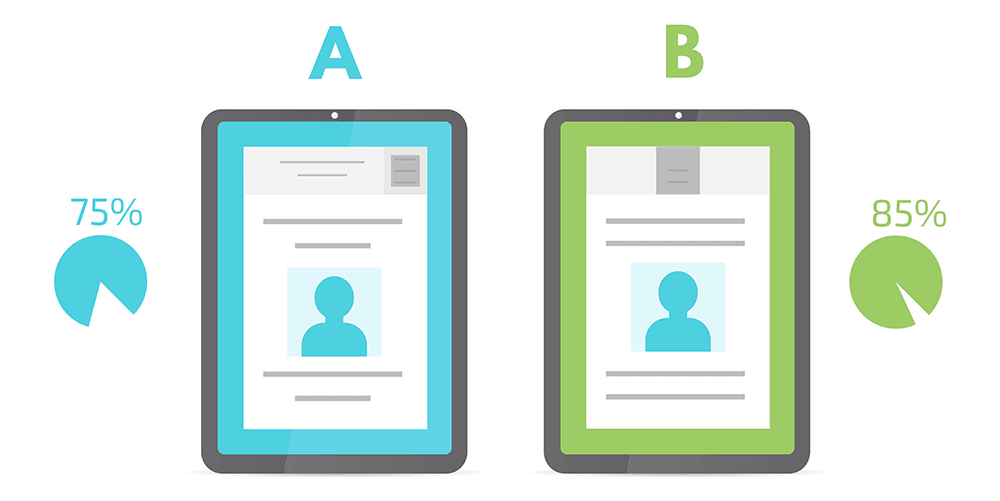 You can do this with lead pages, product pages, cart pages and just about any other page.
If you are on WordPress, you can use A/B testing tools to easily implement A/B testing in your conversion toolbox.
There are even A/B testing tools that you can use for Shopify:
Start A/B testing all of your pages to find the highest converting version of your pages. You can also use A/B testing alongside heatmap testing to find the ideal design.
Heatmap Testing
A somewhat new way to increase your e-commerce store's conversion rate is to use heatmap testing.
Heatmap testing allows you to see heatmaps on your pages of where people are clicking and taking actions.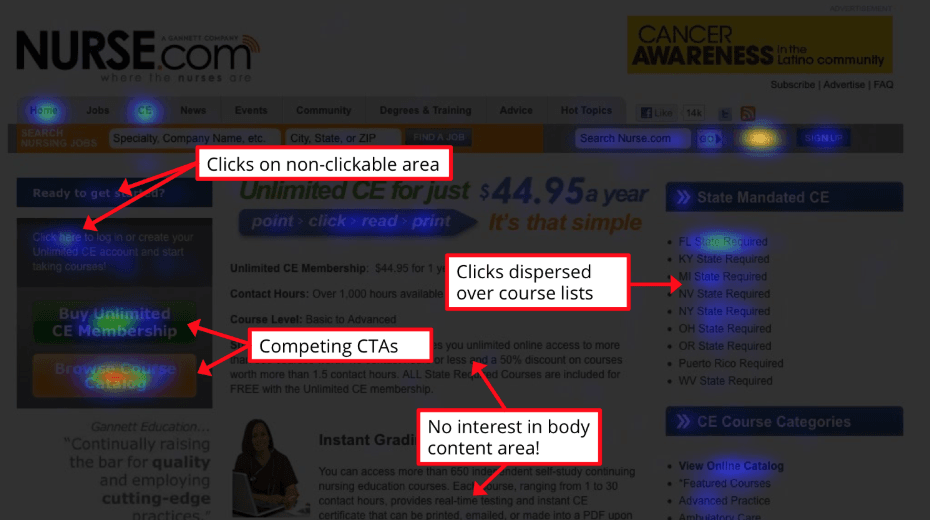 This can help you figure out the best layout, navigation, and calls to action by analyzing the heatmap data.
Here are some of the most advanced heatmap testing tools:
Using them is quite simple. Just install the javascript code provided and then let it collect data.
Some of them, like LuckyOrange, allow you to view your visitor's live activity, what they are doing and what they are clicking on.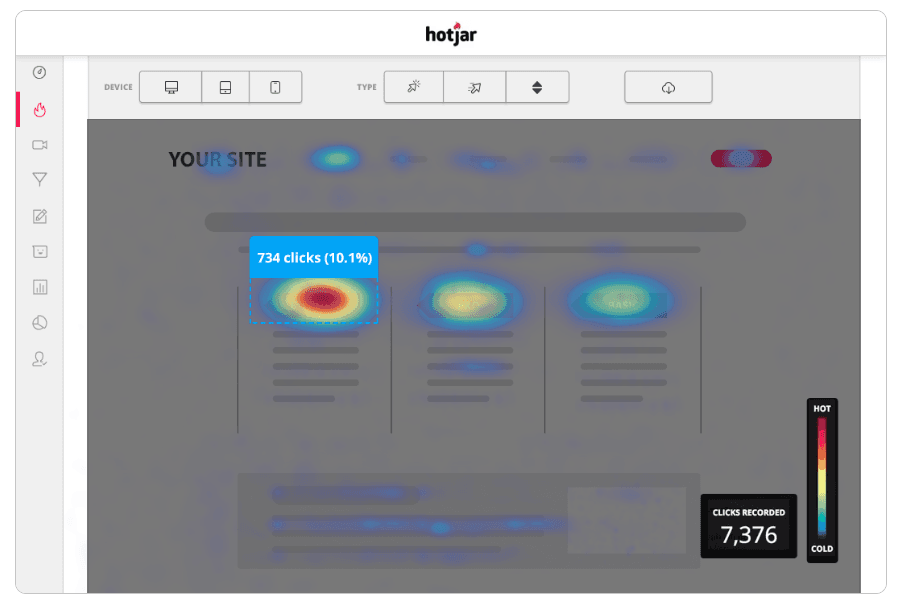 This can give you some great insight into the usability of your website and how to better optimize it.
Social Proof
If you have a decent social media following, showing that to your potential customers can greatly increase the chances of them buying your products.
When people see that other people like and trust your e-commerce store, its a lot easier for them to buy.
There are new tools that you can use to create more conversions using social power. Pop-ups that show recent purchases can increase your conversion rate double digits.
There are plenty of great social proof tools that can do this for you like:
ProveSource
Jungle Pop
TrustPulse
These tools will hook into your orders and show other visitors when someone purchases something, which builds social proof and trust.

If you simply can't afford these tools, you can try and featuring testimonials and reviews on your ecommerce website pages.
Testimonials & Reviews
If you set up your ecommerce store, buy traffic and see no orders, it may be because there are no reviews or testimonials.
These days, without reviews, you are going to see a low conversion rate. People want to research, find information and know what other people think of your products.
Having reviews on your homepage, product page and checkout page can increase your conversion rate by a large amount.
If you are using an ecommerce system like WooCommerce or Shopify, review functionality should already be set up on your site.
Getting Product Reviews
But how do you actually get reviews?
I can tell you that getting the first review for a product is the hardest review to get. Here are some ways to build a good base of reviews to increase the chances of more reviews:
Send email to customers who have already purchased
Add a few fake reviews (yes, its ok to do)
Offer a coupon or discount for review products
Use social media to promote reviews
Reach out to loyal customers
Once you get 1 or 2 reviews on a product, you will notice people are much more willing to give their opinion.

You can also sign up to these review platforms to build more trust online:
Some of these will cost you money but are well worth the increase you will see in your conversions when people can see other customers' reviews.
Conclusion
There are a number of great ways that you can increase your ecommerce conversion rate.