Cannabis magazines have evolved considerably over the years.
There has also been a tremendous increase in the total number of specialty magazines that are made available to marijuana enthusiasts in recent years as marijuana becomes more legal. No longer are you only limited to reading High Times, and occasionally Canada's famous Cannabis Culture magazine.
Today, there are numerous options available for the discerning cannabis user who is looking to up their game by learning more about the amazing advancements that are occurring in this growing industry.
So here are the most popular cannabis magazines and publications:
High Times
Despite there being an extensive list of new players in the field, High Times nonetheless still reigns supreme by providing its readers with exclusive access to the incredible world of cannabis. This magazine presents its readers with all of the latest developments happening in the cannabis industry so that you can remain as well informed as the experts. And that's no exaggeration either.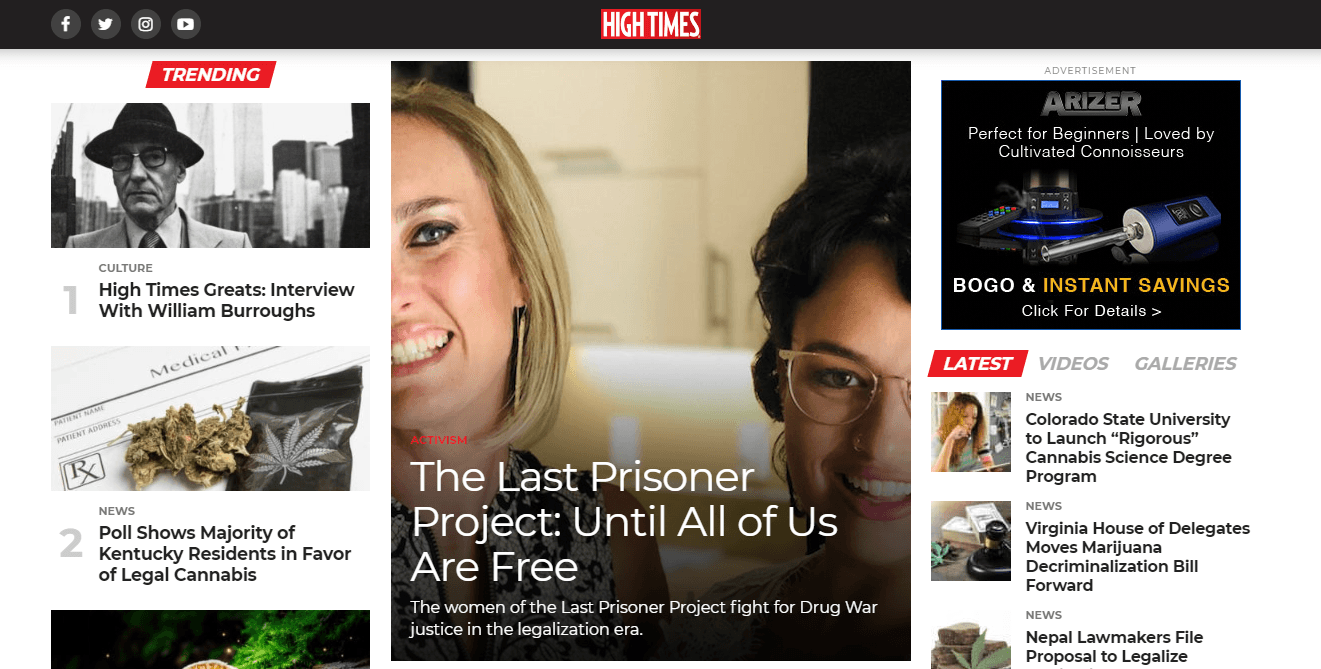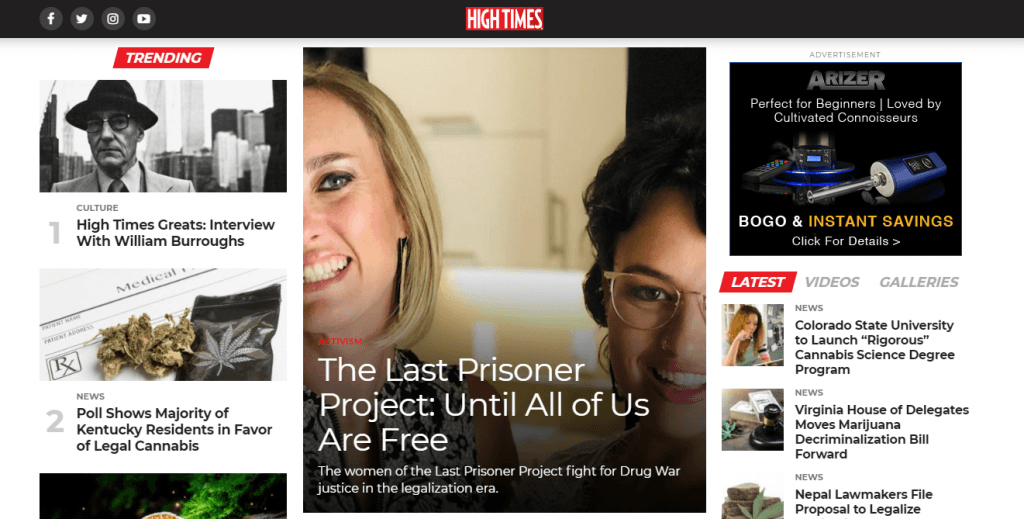 High Times is constantly reporting the latest news in the cannabis industry by covering everything from the ever-changing laws affecting cannabis to reporting the remarkable scientific breakthroughs being made by leading scientists around the world. This provides cannabis enthusiasts with an unparalleled look at the world of cannabis that keeps them fully informed about everything affecting their favorite plant.
Whether you are interested in learning about the latest growing techniques, or you are just interested in the rapidly evolving pop culture that is sprouting up around this industry, you will certainly find a breaking news story coming from this magazine that will tickle your fancy.
Cannabis Culture
Of course, it's not all about High Times. Cannabis Culture has also established itself as a leading authority within this burgeoning industry.
Started by the legend himself, Marc Emery, Cannabis Culture is a major influential publication that has had a very important effect upon the latest developments within this industry. Once the leading place to find high-quality seeds to import from Canada, Cannabis Culture continues in this tradition by continually highlighting all of the latest developments in the industry, while still including plenty of information about how to get your hands on the best seeds available.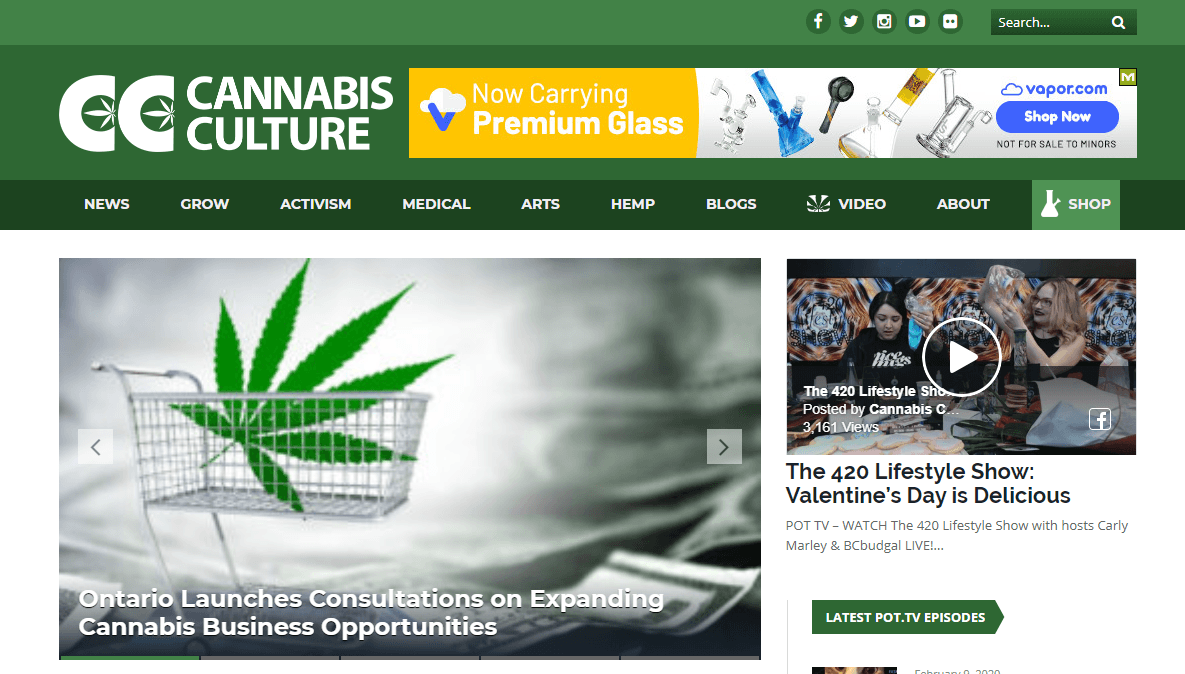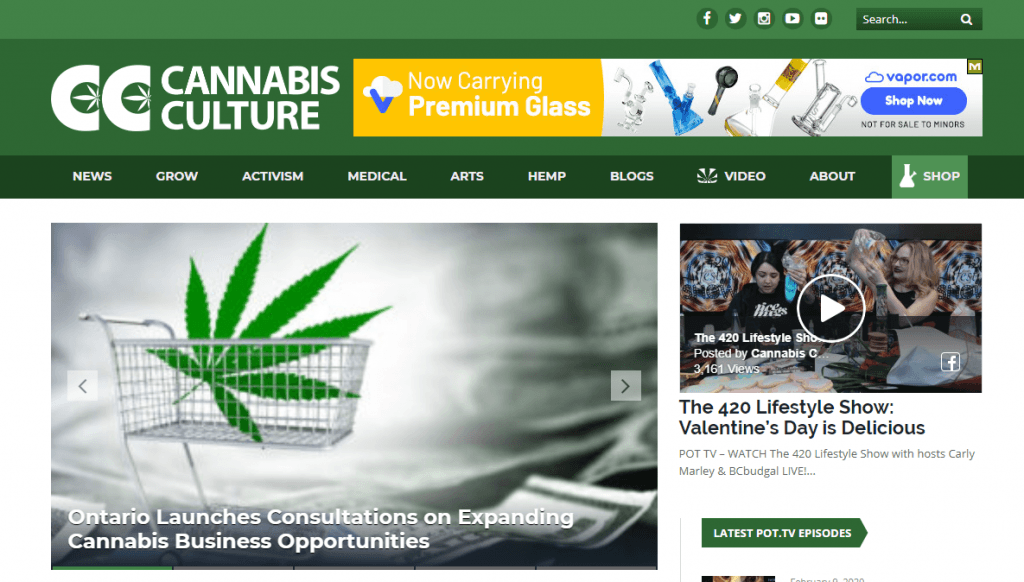 Not only that though, but they also provide extensive information about the latest developments affecting cannabis laws around the world. The main purpose of this marijuana-centric magazine is to keep readers informed about the latest developments within the industry. Marc Emery has demonstrated the true power of cannabis and the astounding amount of support Canadians have for this marvelous plant. Along with acting as a pioneer within the industry, Marc Emery has also proven to be a powerful political influencer who has undoubtedly helped Canada become one of the most advanced countries in the world in terms of its cannabis laws. For this reason, you will find much more than simple news concerning cannabis laws and scientific breakthroughs. Instead, you will find plenty of information about the latest developments affecting activists and professionals in this industry.
If you are looking for the best ways to promote the legality of pot in your country, then Cannabis Culture is certainly the marijuana magazine for you.
Mg Magazine
To compliment your Cannabis Culture readings, you will certainly want to also check out Mg magazine.
This magazine is pushing forward the official business side of the industry to provide readers with a fresh perspective of cannabis they may not be entirely familiar with. While most cannabis enthusiasts are quite used to the usual grimy photos of pot growers taking their game to a new level by using the most advanced techniques ever developed, Mg magazine is highlighting the big business side of things like never before.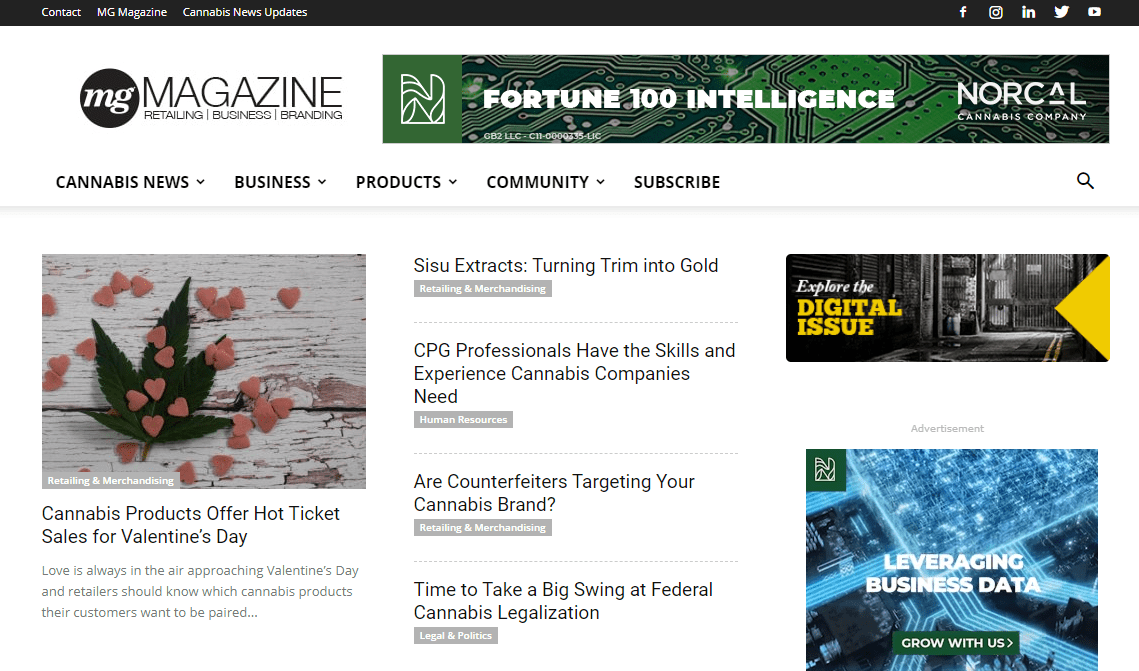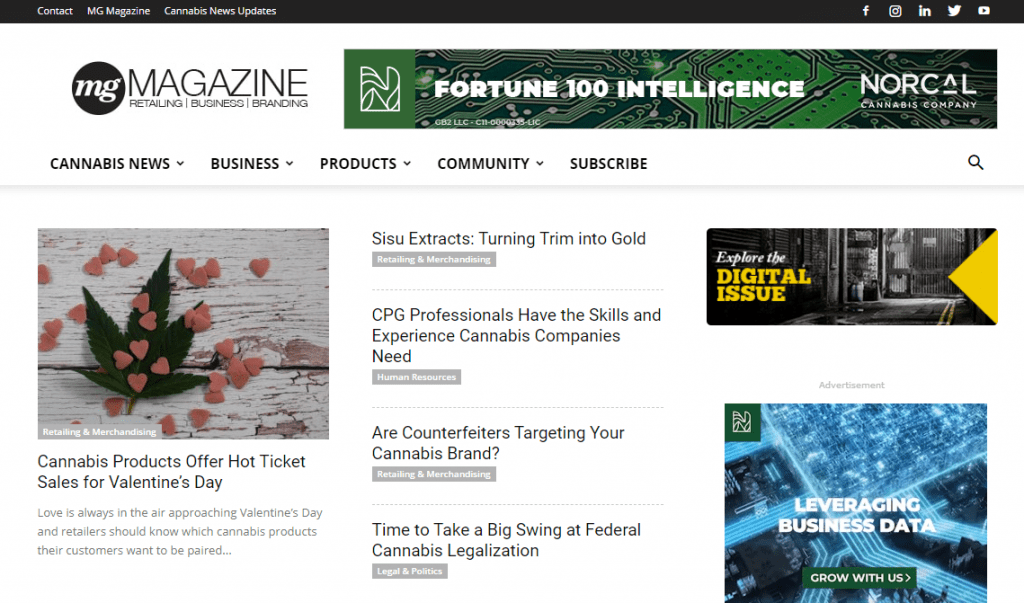 Get an inside look at the biggest players in the industry and learn more about their unique perspectives so that you too may profit from the latest marijuana craze. On that note, you will also find plenty of pro-marijuana media on this site that will help you better understand the latest developments in the industry. Along with providing detailed information about the strategies being used by major players in the world of cannabis, this magazine also regularly features pro-pot articles that are pushing the industry towards complete federal legalization in the United States.
This makes Mg magazine a very influential source of information about your favorite plant that simply should not be ignored by the true believers in the power of the mighty weed.
Culture Magazine
If watching people wearing suits and ties while making major fortunes isn't your thing, perhaps you would like to check out Culture Magazine instead.
This magazine has demonstrated to be the go-to source of information about leading activists and pro-pot enthusiasts that are changing the public's perception of ganja in ways no other individuals in the world possibly could. Its content frequently consists of in-depth articles about high profile individuals who aren't necessarily involved in the cannabis industry on a daily basis but are nonetheless casual users of the substance. Thus, you will find extensive information about your favorite TV personalities here while simultaneously learning more about the latest perspectives of key people in the marijuana industry.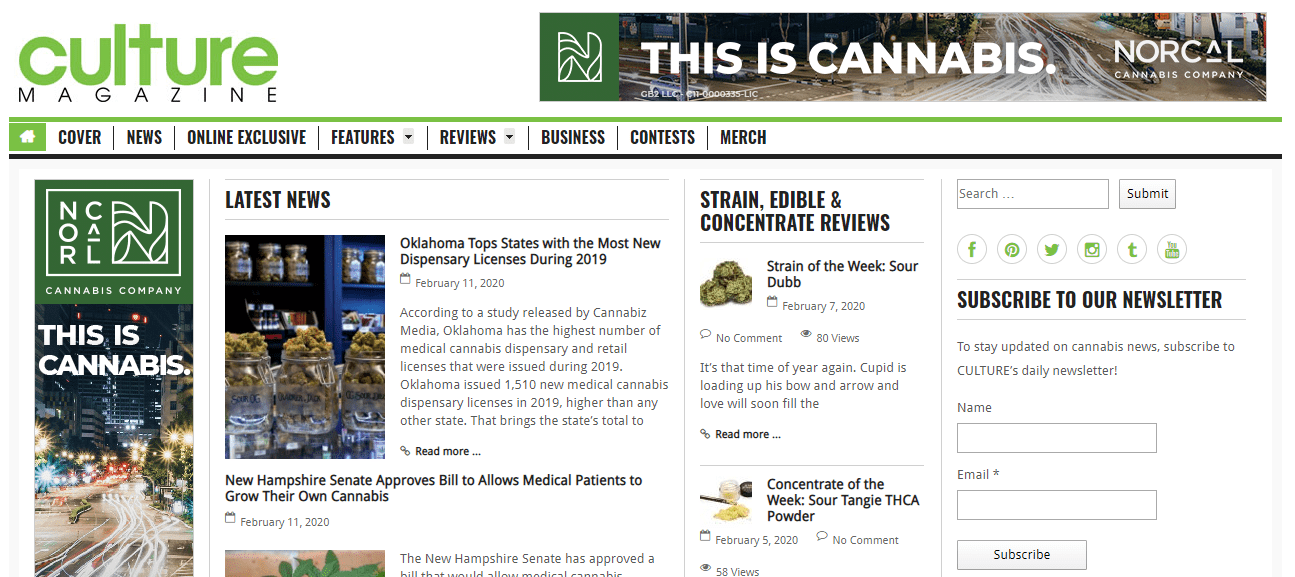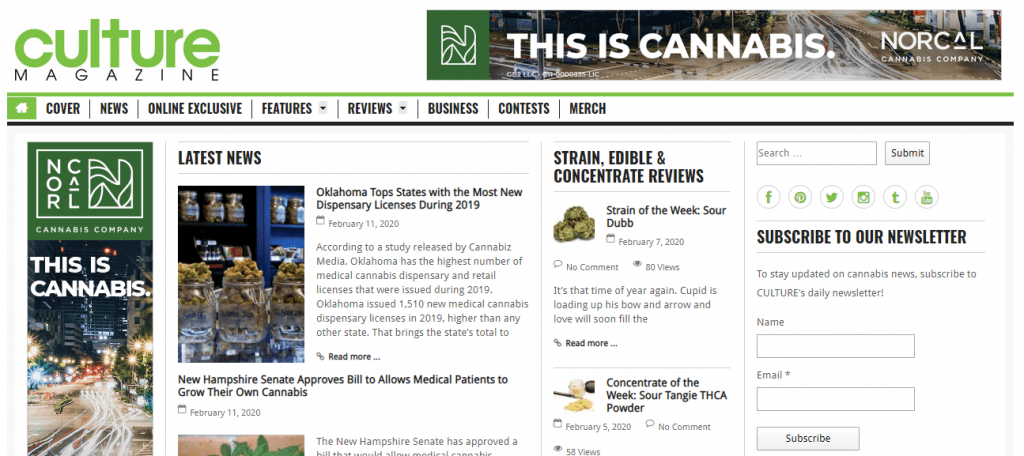 People like Bill Maher, Sanjay Gupta, and Tommy Chong are regularly featured to provide cannabis users with a look at the highest of times in the cannabis industry. Not only are these people major proponents of marijuana, but they are deliberately and systematically altering the public's perception of the plant, which is undoubtedly helping to further drive the legalization movement since these individuals reach millions of people with their messages of hope and optimism.
Alongside these detailed reports about your favorite stars who love cannabis, you'll also find an abundance of information about the rapid developments occurring in the marijuana industry so that you can always stay one step ahead of everyone else in the industry.
Broccoli Magazine
If you are searching for some information that's not always covered very thoroughly by the major print magazines like High Times, then you will definitely want to check out the pages of Broccoli magazine. This magazine has established itself as a proponent of women who are interested in promoting the full potential of pot.
Thus, you'll find plenty of stories of women performing incredible feats in the cannabis industry adorning the pages of this delightful magazine.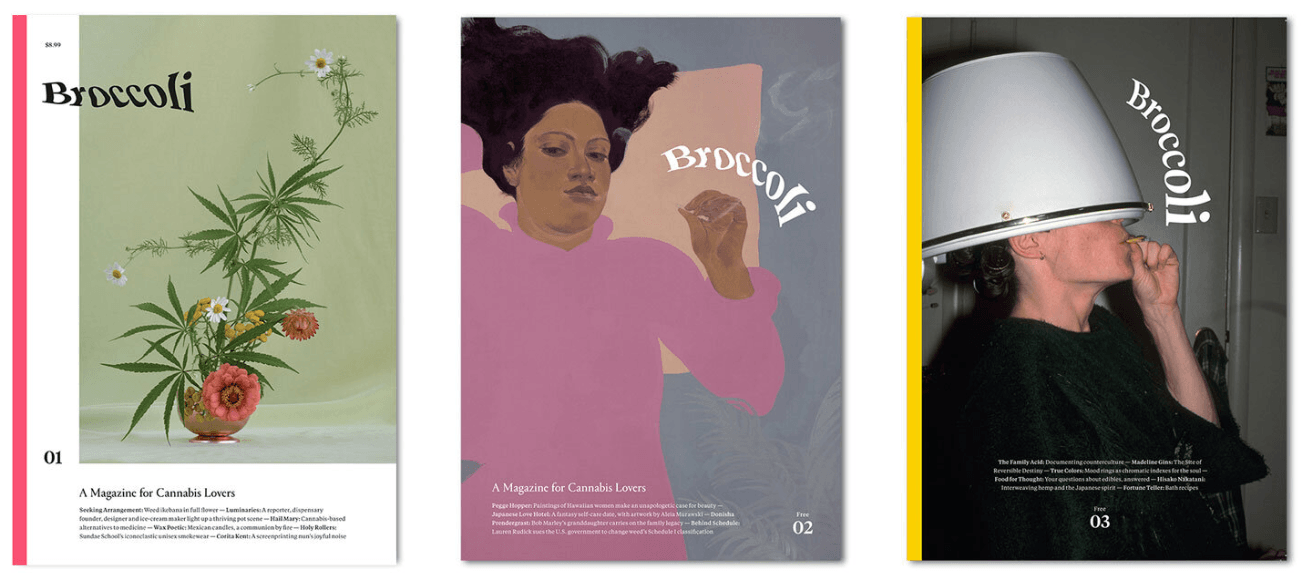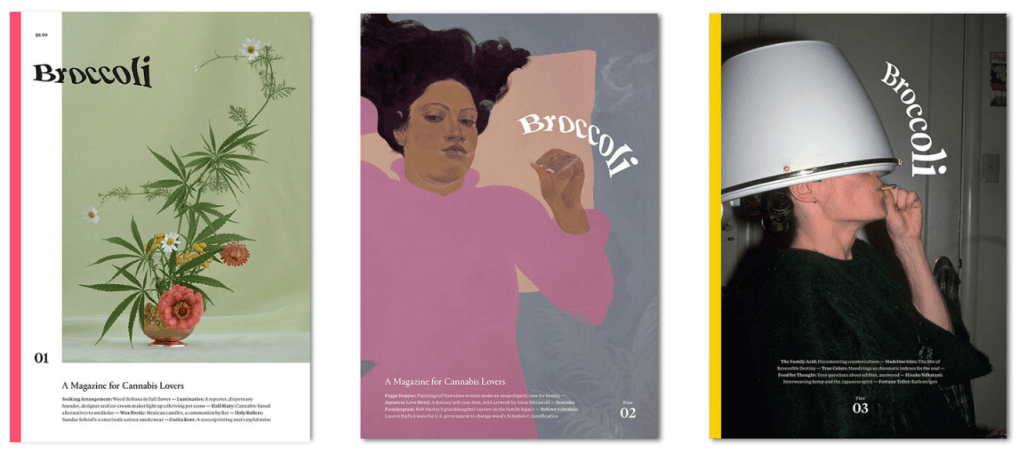 If you are tired of the grimy old pot magazines that look like they came from the nineties, then this is the magazine for you. Broccoli is taking the cannabis experience to new heights by highlighting the activities of exceptional women who are both entrepreneurially minded and very enthusiastic about everyone's favorite weed. Expect to find exceptional artistic works and enlightening perspectives of women in the cannabis industry while perusing the pages of this magazine.
Cannabis Now
If you are looking for the latest news affecting the cannabis industry, then you should take the time to check out Cannabis Now.
This online magazine has established itself as a leading source of the latest information affecting you and your cannabis. It regularly publishes detailed reports about everything cannabis, yet it also provides fresh political and scientific perspectives that will enlighten your understanding of the industry.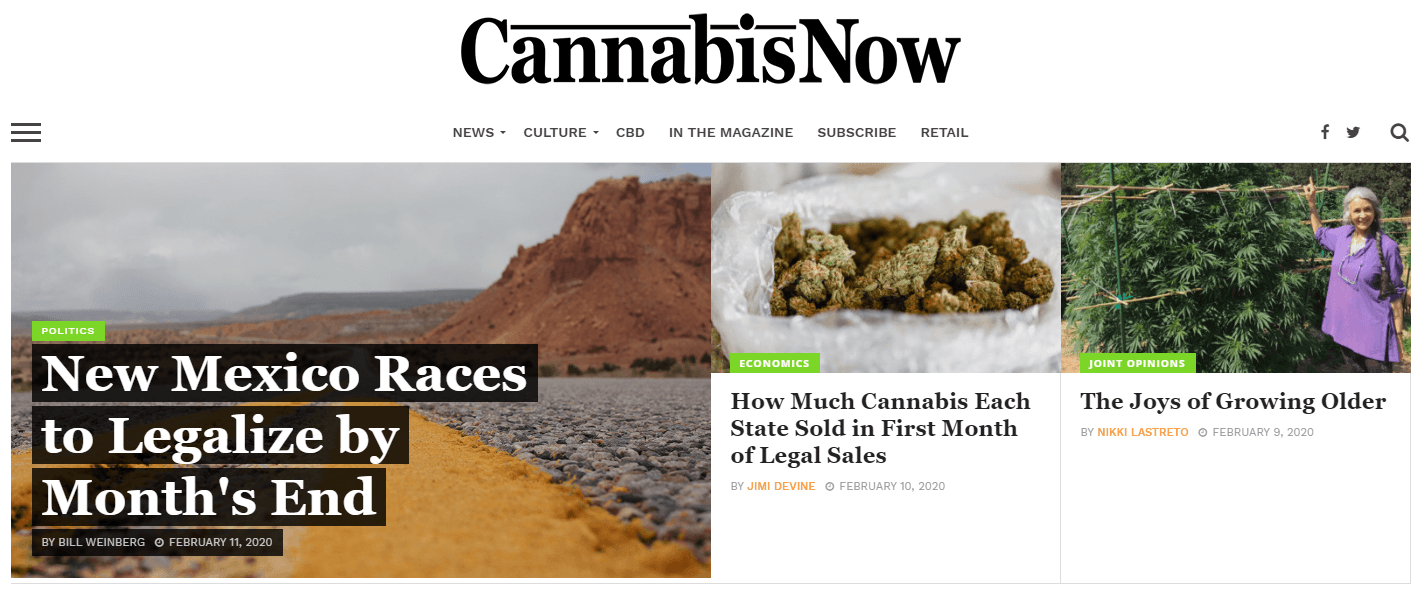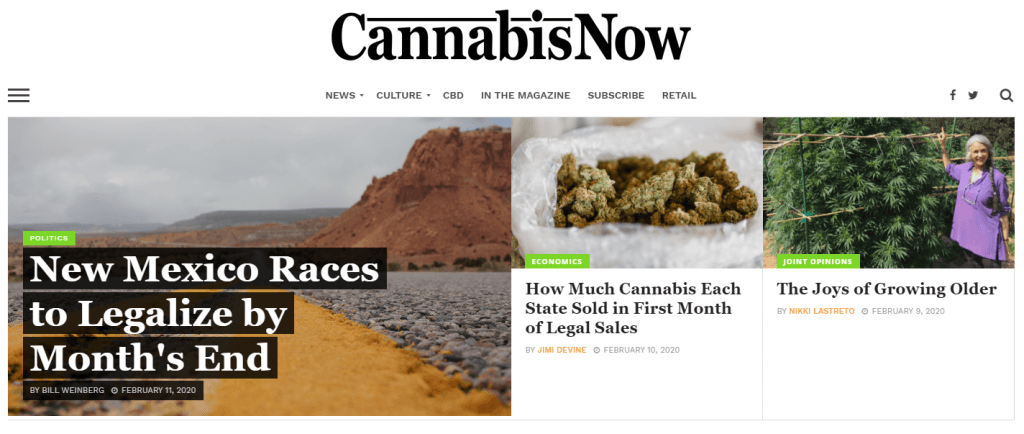 If you are looking for top-notch investigative reporting covering all of the finest nuances in the cannabis industry, then this is the magazine for you. Editorials frequently include in-depth perspectives of the industry from some of the top cannabis magnates on the planet. By reading this magazine in particular, you will gain access to fresh perspectives from leading experts in the industry, but you will also hear the opinions of famous people who are trying to make a difference in the world by promoting the benefits of marijuana.
Cannabis Magazine
When you are searching for those detailed reports that give insights into the marijuana industry like nothing else, you should check out Cannabis Magazine. True to its name, Cannabis Magazine is all about the green goddess, but they don't just highlight pop culture. Instead, they are focusing their efforts on highlighting major stories in the industry that will ultimately impact the experiences cannabis consumers have with the products they buy.
They are also providing unique insights into the lucrative world of cannabis investments to help you stay a step ahead of the game while amassing your marijuana empire.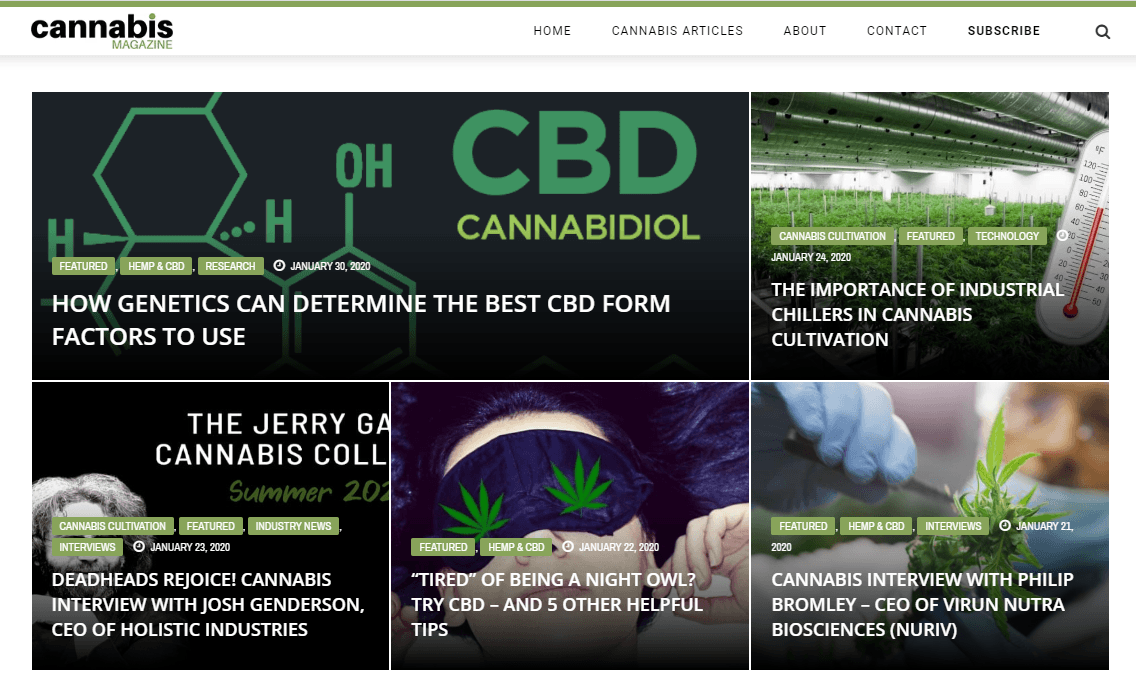 What really sets cannabis magazine apart from the rest though is its global perspective. Many cannabis magazines are based in North America and thus typically report primarily the happenings affecting American consumers and businesses. Cannabis magazine, on the other hand, demonstrates an interest in international affairs affecting cannabis legality and availability. The result is naturally a magazine that is stuffed with interesting tidbits you won't find anywhere else as their skilled reporters shine a bright light on all of the latest dealings within the international cannabis community.
Grow Magazine
If you have a green thumb, then no magazine will do but Grow magazine in particular. That's because this magazine is dedicated to the craft of growing the finest cannabis possible. Through detailed assessments of every growing technique under the sun, Grow magazine is able to regularly reveal some of the most advanced techniques available so that you may easily produce your own trichome-rich buds right at home. Growing cannabis isn't as simple as growing other crops. Growers don't just provide marijuana plants with the conditions that will help them survive to produce high-quality cannabis. Instead, they must produce the absolute perfect conditions for the production of trichomes to produce THC infused flowers that will produce the most desirable effect possible.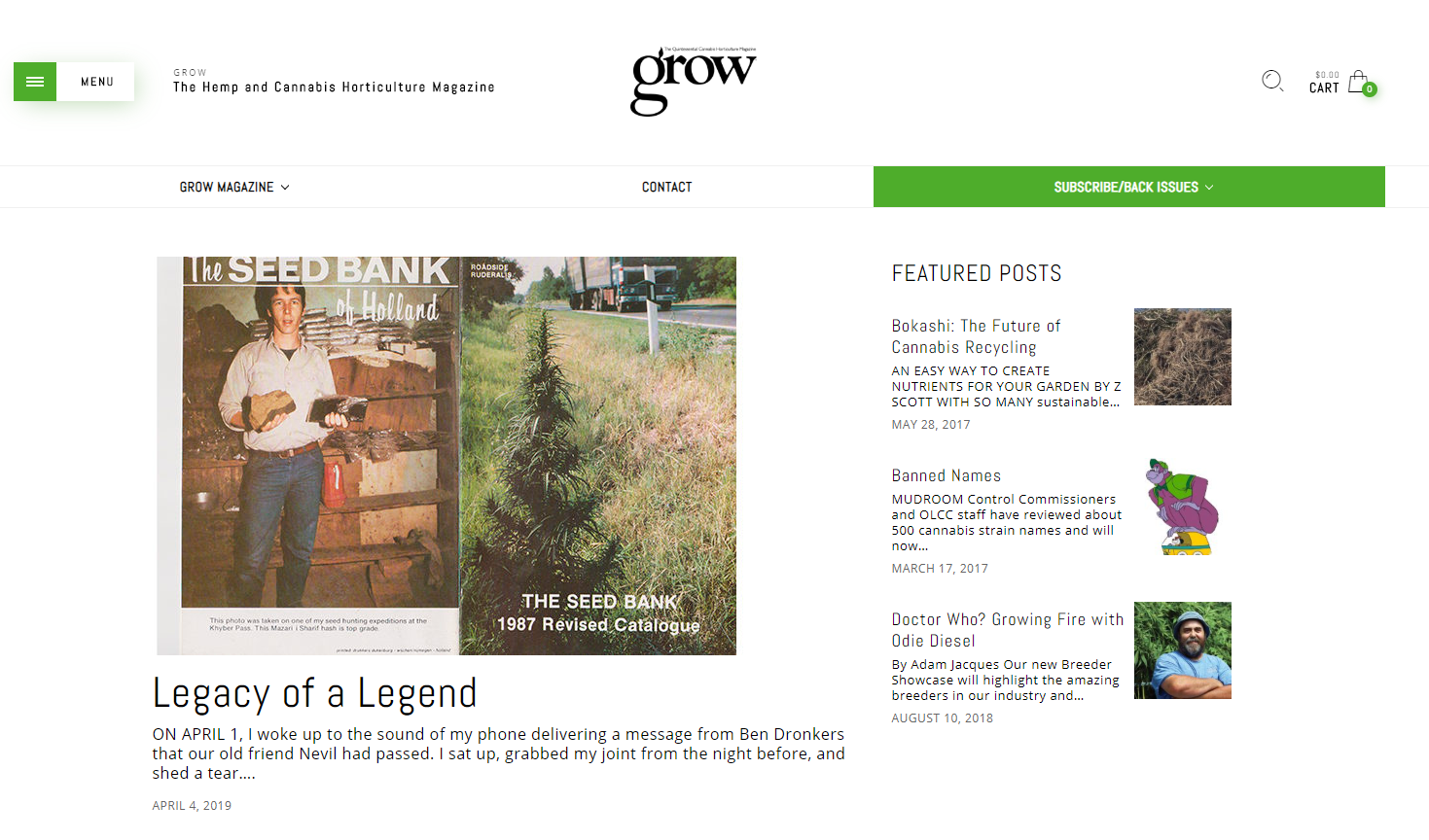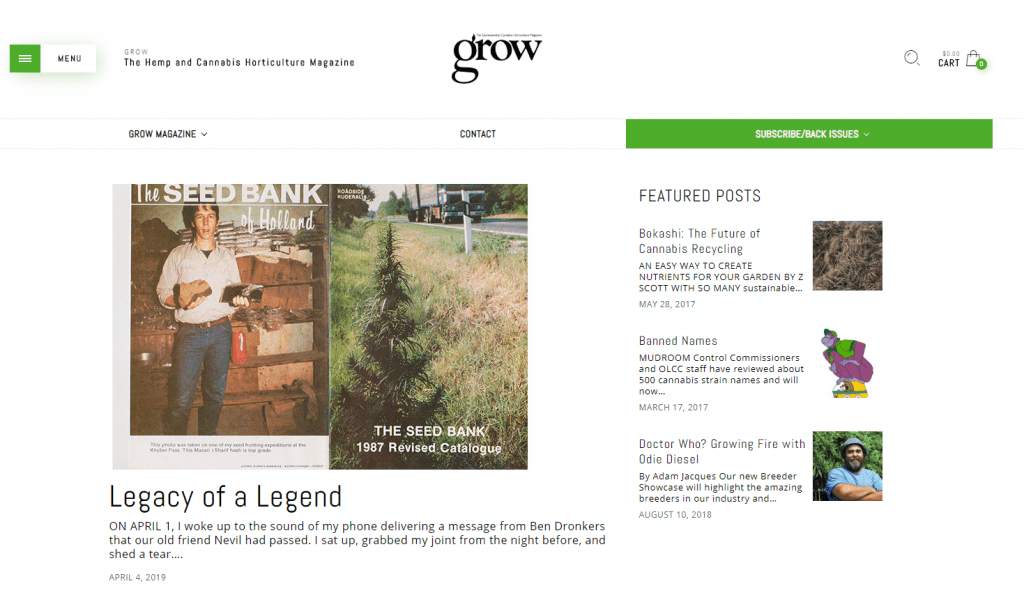 That's why the best growers in the industry read Grow magazine because this magazine takes their growing skills to the next level. If you are interested in starting a cannabusiness, then this is the perfect magazine for you. Deep familiarity with the latest cultivation practices will help you to better understand precisely what consumers are looking for when they go to the dispensary in search of some dank buds. There is an incredible demand for highly skilled growers in the cannabis industry, and Grow magazine is helping rising stars in this industry make the most of their careers. Professional pot enthusiasts and amateur growers will both enjoy the in-depth reviews of growing techniques used by pioneers in the industry.
They just might also get a chance to learn a thing or two about the origins of modern growing techniques and business practices as well.
Here's a Few More Cannabis Magazines
A list of the world's best marijuana magazines would be incomplete without a few honorable mentions. Here are a few more of the top magazines in the world covering all of the latest trends and news that matters most.
Dope Magazine: A magazine that is designed for those who not only believe it's normal to smoke cannabis but an absolute must for those who want to live life to the fullest.
Push Magazine: A magazine for those of us who are deeply in touch with our feminine side and want to share our passion for the world's best plant.
Skunk Magazine: Skunk Magazine is designed for those hardcore stoners who simply cannot get enough of the lovely ganja.
As you can see, there is a surprisingly diverse list of marijuana magazines being made available as of late.
While you may only be familiar with top names like High Times and Cannabis Culture, you will undoubtedly learn a thing or two by taking the time to read each and every one of these amazing magazines. Within their pages, you will find exceptional artistry combined with mouthwatering pics of your favorite plant that will quite simply leave you wanting for more.