The Hemp & marijuana industry has many limitations with CBD Marketing but there are a few marketing channels you can still use.
With CBD marketing, like cannabis marketing, you can get organic customers coming to your website and buying your CBD products every day.
There are a number of strategies that you can use to grow your CBD business online using digital marketing.
In this guide, I am going to teach you every aspect of CBD marketing so you receive a steady stream of leads and customers visiting your website every single day.
By the end of this article, you will be a CBD marketing genius. So without further due, let's get started.
CBD Marketing with Social Media
Everyone uses social media… probably even you.
That should tell you that social media can be one of the most powerful CBD marketing strategies.
There are a lot of social media platforms, but you should only focus on the biggest ones. There are even a plethora of marijuana social media networks out there, but some of these can be a waste of time and energy for not that great of an ROI.
Here are the best social media platforms for CBD marketing.
Instagram Marketing for CBD Brands
Instagram has over 400 million daily active users.
That is a lot of people consuming content throughout the day. If you can get your CBD product or business in front of just a tiny fraction of those users, you can explode your business with new customers.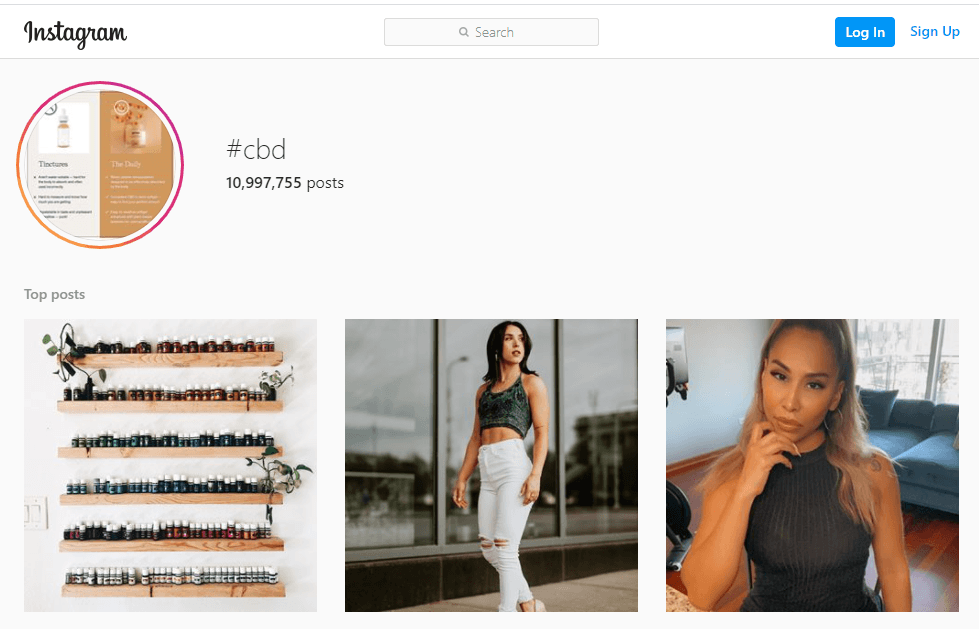 Growing a following on Instagram doesn't have to be difficult… or time-consuming.
Simply add good content and value to your profile and you will naturally gain followers. Focus your content around your products and brand and like-minded follows will start coming in.
Automation Tools for Social Media
You can also use tools to auto-follow and auto-like other users to increases your growth rate. This will get you more followers, but they will be less engaging.
A lot of these tools also come with a post scheduler. This can save you hours of time by scheduling all of your content weeks out which is amazing for CBD marketing. You can even hire someone on Upwork to take care of this process for you each month.
Some great automation tools for Instagram are:
Use CBD Hashtags
Make sure that every post contains 15-20 hashtags that are keywords your target customers may be looking at. Some ideal hashtags would be:
#cbd #cbdoil #cbdonline #cbd #cbdoil #cbdvape #cbdlife #cbdgummies #cbdheals #cbdisolate #cbdcures #cbdmovement #cbdflowers #cbdhealth #cbdedibles #cbdcommunity #cbdream #cbdoils #cbdbathbomb #cbdproducts #cbdlove #cbdistillery #cbdskincare #cbdforpets #cbda #cbdhemp #cbds #cbdfordogs #cbdu #cbdbenefits #cbdcrystal #cbdtincture #cbdcoffee
Optimize Your CBD Business Profile
Your profile should contain a description of your CBD business and a link to your website where customers can buy your products. You can now also add hashtags to your profile to be better found in the hashtag search section.
Here is a good example of an optimized Instagram profile: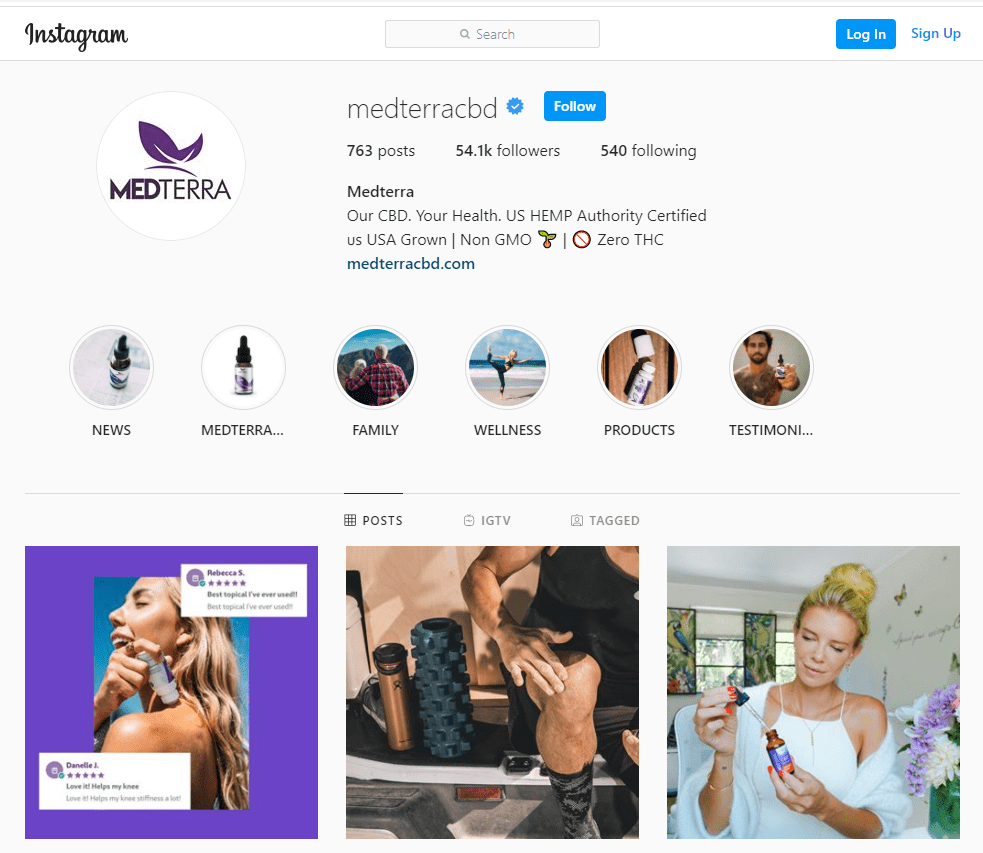 Once you get to a few thousand followers, you will notice more and more visitors from Instagram.
CBD Marketing on Twitter
Using Twitter to market CBD business can help it grow exponentially online. With just 1 retweet by a popular account and some good content, you can reach thousands of targeted people.
Twitter allows you to both nurtures your subscribers/followers and announces offers/deals for your CBD company. It allows you to use up to 280 characters per tweet, that all of your current followers can like, retweet or comment on.
So how do you get more followers on Twitter?
Build a Detailed Profile
Like Instagram, having a detailed Twitter profile will help you get more organic traffic to your profile and website. Make sure to use relative hashtags on your profile and add your website URL.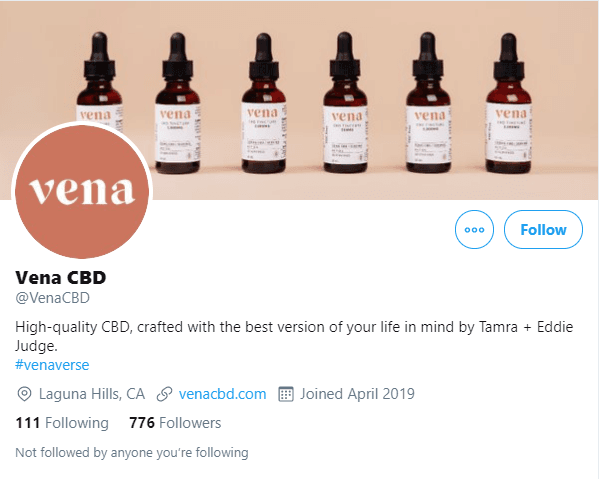 Explain what your profile is about, what you sell, your brand image, or how you can help your followers.
Use Calls to Action in Tweets
With Twitter, you can use a CTA (call to action) in your tweets to help grow your following and engagement per tweet. Tell your followers what to do with your tweet to help them become more active. Here are some good call to action for CBD companies on Twitter:
"Like if you use CBD oil"
"Tag a friend who needs some CBD"
"Retweet if you enjoy this CBD brand"
This will help your tweets get more engagement and increase visibility to non-followers.
Engage With Your Followers
The best way to get targeted followers is to be engaging with your followers. Reply to their comments. Thank them for sharing. Like their stuff as well. This will help you grow a targeted following who are interested in your CBD products.
Facebook CBD Marketing
While Facebook used to be better CBD Marketing, it's still the largest social media platform and should be one of your focuses when it comes to social media CBD marketing.
Creating a Facebook Page for your business and allowing users to link, share, and review your page, can help you rank better in Google as well as increase the traffic to your website from Facebook.

Share good and valuable content on your wall every day to grow your following. Join Facebook groups where your target demographic may hang out. For CBD businesses, maybe you could join Vape Groups, CBD groups, etc. Be active in these groups and you will gain a ton of followers to your page or personal profile.
Be sure to add your website link, description, phone number, and address to your Facebook page. Invite your friends and tell them to share with their friends.
YouTube & Video Marketing for CBD Brands
Video converts better than any other medium out there and is becoming a more and more popular way to consume content on the web.
Creating a YouTube channel and growing your following can create a large stream of leads and new customers viewing your channel and website every day.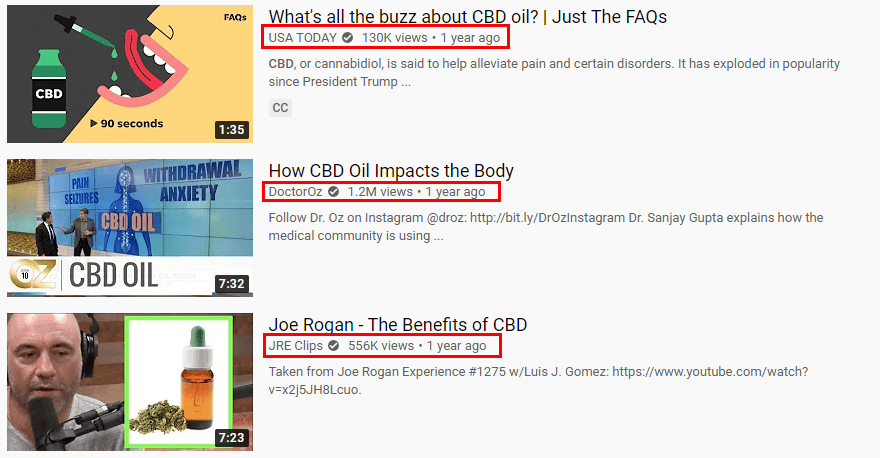 YouTube videos should give value to your listeners/subscribers and be relative to your niche, product, and industry.
For example, creating really good video reviews of the top CBD oils, pens, or products could bring in thousands of new customers a month.
CBD Marketing on LinkedIn
LinkedIn can be one of the best sources of leads and new customers. If you are a CBD manufacturer or maybe a B2B CBD company, then finding new customers on LinkedIn can be pretty simple.
Simply search for 'CBD' and you will see a number of CBD CEOs, Founders, and business owners.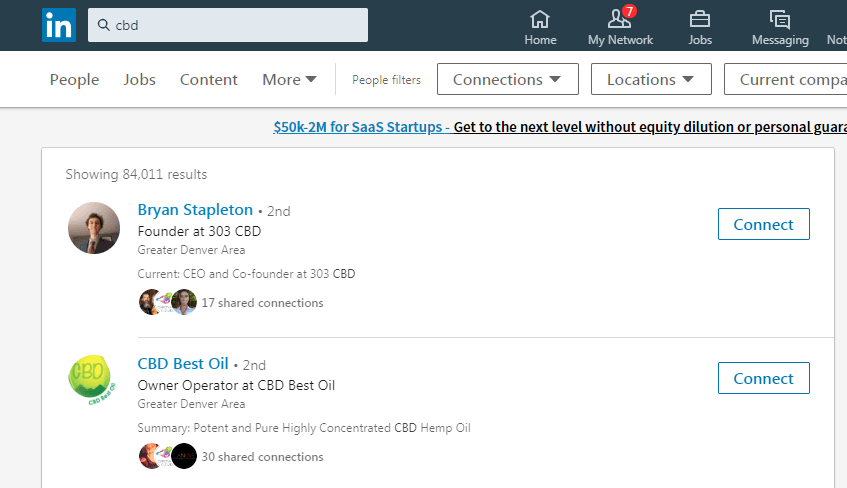 You should have an optimized profile with your company and links included so that people see your company and what you do. Connect with other people in the industry, potential clients, and industry leaders.
With a big following, you can get loads of free targeted traffic to your website or business.
Repost content from your blog or news and deals that you are offering for your business. And remember that the more value you put out on LinkedIn, the better results you will get.
Search Engine Marketing (SEO) for CBD Brands
Search engine optimization is the method of optimizing your website on and off-page to rank higher in Google, resulting in a plethora of natural and organic traffic to your website.
SEO Website Optimization
The first piece of search engine marketing for CBD businesses is making sure that your website is updated and optimized with the latest on-Page SEO techniques.
Have a Secure Website
Having a secure website is super important for e-commerce websites. When users are entering in credit card information on your website, it's vital that you have a secure connection to keep users data private.

Its also now a ranking factor to have an SSL certificate installed on your site. Make your entire site HTTPS and you will see a big jump in search rankings.
Build Optimized Meta Titles
Meta Titles show Google and other search engines with your pages are about. Your meta titles are really important because this is what searchers see in Google when they are searching.

Having good meta titles can make your listing stand out and get a higher click-through rate, increasing your rankings in Google.
Your meta titles should be between 50 and 60 characters and feature the main keywords of the page.
Create Keyword Rich Meta Descriptions
Your meta descriptions explain to search engines in more detail, what your page is about. Meta descriptions should be between 50 and 300 characters long and include main keywords and sub keywords.

The meta description should be a 1 to 2 sentence description of your page.
Bonus Tip: Add numbers, symbols, and calls to action in your meta descriptions to help them stand out more and increase CTR.
Add Schema Rich Snippets (structured data)
Rich Snippets (or structured data) is a newer SEO technique that involves adding custom tags or code to your website pages that help search engine bots more easily figure out what your website/data is about.
This data is also shown in the search results to increase the user experience for searchers.
There are a number of different types of things you can use rich snippets for:
Authors
Business and Organizations
Events
Music albums
People Products
Restaurants
Recipes
Video
Rich Snippets can help your listing stand out more in Google Search. Resulting in higher click-through rates and better rankings overall. For example, if you sell CBD products online, you can have your prices, ratings, and stock status show up on Google Search.

Add Keyword Rich Alt Tags to Images
Alt (or alternative) text tags are HTML tags that are attached to images. Since Google bots cannot see images, alt text tells the spiders what the image is.
So name your images using alt tags in a great way to rank better in Google Images and Google Search.
Bonus Tip: You can also name the actual filename of the image using keywords of the page or image.
SEO-Friendly URLs
When it comes to selling products online, CBD or not, it's important to have the product keywords in the URLs. Google looks at the URL keywords as a ranking factor so add your keywords in your URLs.
If you are using WordPress, you can use plugins like Yoast SEO, which will help 'SEOize' your URLs, as well as other important pieces of your site.
Have a Fast Loading Website
Having a fast website is not only important for customer retention but it's important for SEO too. Google wants its user to have a good user experience so if your site is slow, Google knows, and will give priority to faster sites.
Not only that, but your users will leave your site very quickly if it doesn't load fast. There are hundreds of other CBD companies out there with fast websites that they could use.
Make sure your website is as fast as possible. To do this, you need a good server that is optimized for speed. Your website should be optimized for speed as well.
To test your website speed, you can use a number of different tools. At Marijuana SEO, we like to use Pingdom's website speed test because it's quick and simple.

The ideal loading time should be 3-4 seconds or under.
Build Long-Form CBD-Related Content
Content is king!
The only true way to keep growing the traffic to your website and market your CBD brand online is to keep building content. Whether its blog posts, guides, infographics, videos, or podcasts, you need to be constantly building new content to bring in target users to your website.
The more content you build around your niche, the more keywords you can ultimately rank for.
Each article should be longer than 1,000 words but I would suggest making them 2,000 words or 4,000 words. These are the type of long-form content that will get you thousands of visitors a month.
The point of long-form content is to provide a large amount of information to searchers and prove you are an authority in your niche. It also attracts high-quality backlinks which is the last (and most important) step of ranking better with search engine optimization.
Build Relevant CBD Backlinks
Backlinks are links on other websites that link back to your website or pages. The more backlinks you have to your CBD website, the better you will ultimately rank in Google. When it comes to CBD marketing, backlinks are very important for ranking your website and products higher in Search Engines.
That doesn't mean that you should go to Fivver and start buying up a bunch of irrelevant, crappy spam links. The links you build to your site should be from high-quality sources in your industry or niche.
The best type of backlinks is in-content backlinks from a blog, guide, or reference doc. To build these types of links, simply build good content around your niche (like CBD) and offer up that article to other websites in your niche. Make sure you add a backlink to your website or product pages from the guest post.
You can also create skyscraper content which is basically finding the best content out there for a given keyword, writing better content, then reaching out to all of the websites that link to that content and offer them to link to your new (better) content.
Wrapping Up
If you are looking to grow your CBD business with digital marketing, simply adhere to the methods above and your website will start growing organically in no time.
It will take some time and work to grow your CBD company with these methods, but they are long-term methods that will provide exponential ROI to your business.
If you have any questions, please comment below.