People love connecting with like-minded individuals online. It has created the idea of the 'social network'. There are thousands of new social networks popping up every day so they are getting more and more targeted.
There are now a number of popular cannabis social networks that allow you to connect with fellow stoners, potheads, cannabis connoisseurs, and like-minded individuals.
Some of these 420 social networks are really cool and some not so much. Whether you are a cannabusiness looking to market yourself or a smoker looking to join a community, these are some of the best social networks for marijuana enthusiasts.
In this article, we am going to show you all of the best cannabis social networks online for business and personal.

Cannabis Personal Social Networks
1. Grasscity Forum


The Forums at Grasscity is one of the oldest social media communities dedicated to everything weed.
Originally, Grasscity was a very popular marijuana growing forum where users could chat about how-to grow, read grow guides and more.. but it has expanded into one of the largest marijuana social forums online.
They have a number of different forums that you can chat with other marijuana-lovers about growing, smoking, legalization and more. Grasscity has even added a cannabis news section and a directory of dispensaries around the US.
2. WeedLife
WeedLife is a new cannabis social network that is still a little buggy but has a large number of people signing up and joining daily. They feature a news feed style social media platform that features marijuana videos, businesses, education, products, growing info and more.
This cannabis-based social media network still needs a lot of work but it's one of the original social media platforms for marijuana smokers.
If you are a business, brand or public figure you can create your own page where people can post on your wall, share photos, events and more.
3. Weedable
At Weedable, you can follow, post and shop, all right from this online platform. They have an app coming out soon that hopefully will help boost this cannabis social network to the next level.
Whether you are a business, personal, or just looking to connect with other pot users, then you can join Weedable and have your very own online profile.
Here is our business profile on Weedable that allows us to connect with other businesses in the industry as well as keep our followers updated on all of the latest news.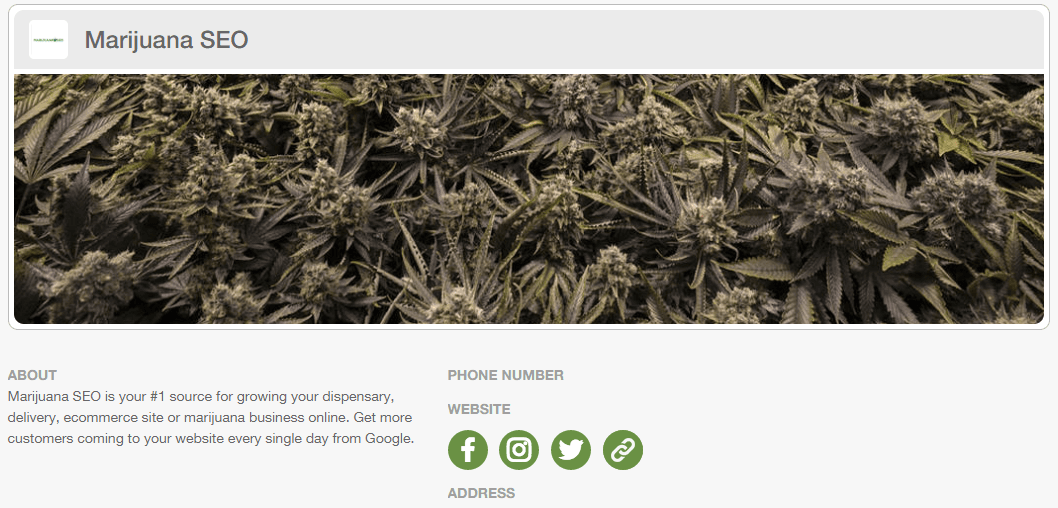 4. Bud Hubz
Bud Hubz is kind of like Foursquare, but for weed. You can find the best dispensaries, headshops, accommodations, and cannabis doctors online on their website.
It's free to join and allows you to connect with 'buddies' or friends to get recommendations from the best marijuana shops around.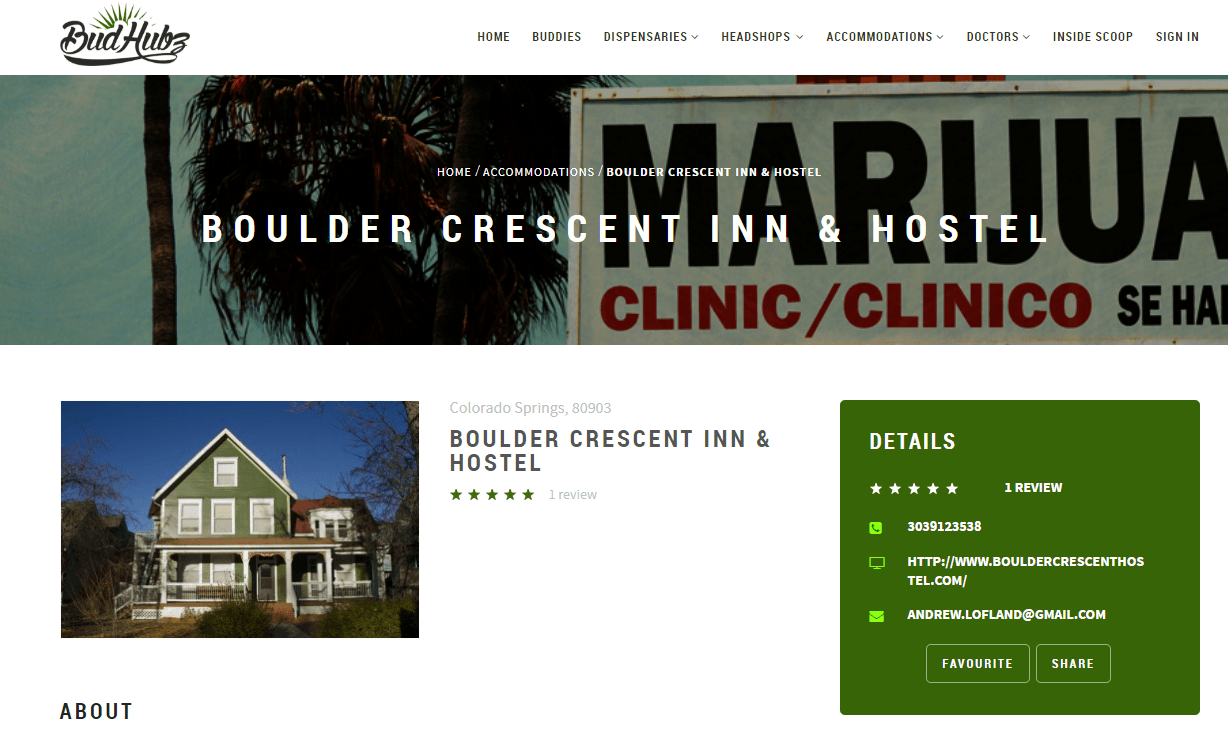 It seems the site is still in a beta mode or development mode, but it could be a super cool social network for cannabis users.
5. MJ Mary Jane
MJ Mary Jane is basically the Pinterest for weed.

You can pin cool weed photos, recipes, videos and more. They even have an app for google and apple so you can pin weed stuff on the go.
Rate other pins, bookmark pins you like and follow other MJ pinners just like Pinterest.
It's completely free to sign up and you can find some really cool stuff on there if you look.

Cannabis Dating Social Networks
6. 420 Singles
Just like social media networks, marijuana-friendly dating apps have also started to pop up. 420singles.com is a dating platform that matches cannabis smokers locally and worldwide.
Whether you are just looking for someone to smoke with or you are looking for a cannalover, 420 Singles can help you find other marijuana users in your area.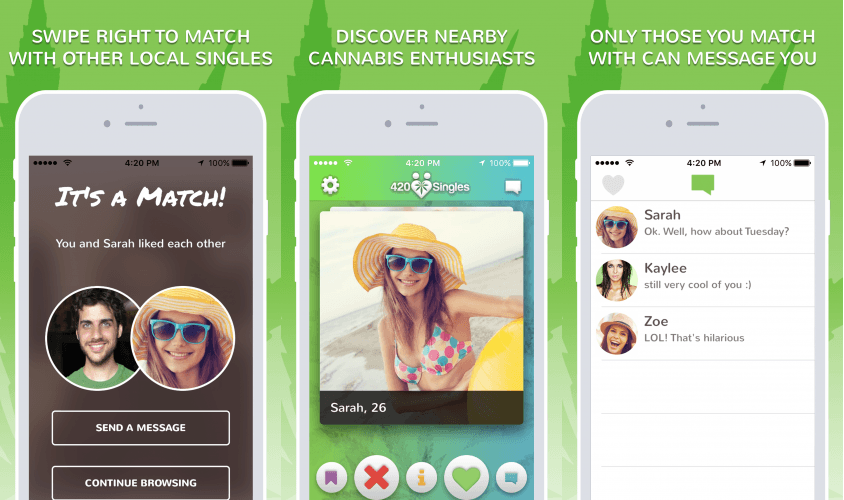 The app is set up like Tinder where you can swipe left or right and make matches with other people on the app. You will need to download the app from the Google Play Store or the Apple App store for free. This cannabis social network is perfect for finding fellow weed smokers near you.
Cannabis Business Social Networks
7. CannaSOS
With CannaSOS, you can explore strains, find products, reviews, friends, QA and more. If you are looking to join one of the larger cannabis social networks, then CannaSOS may be the one for you.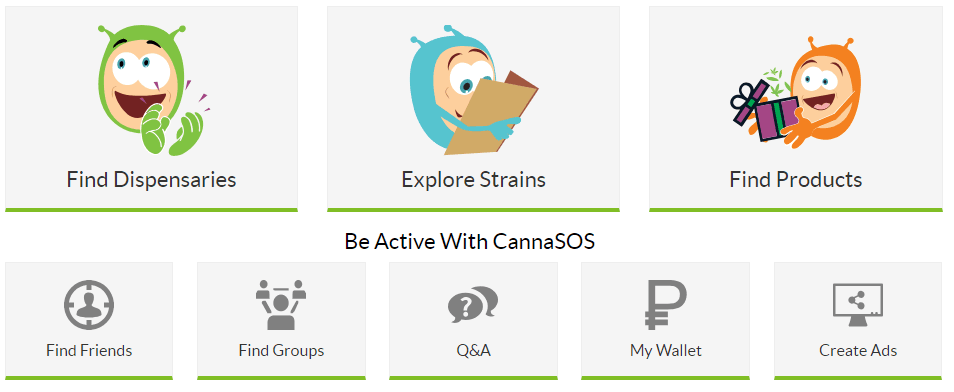 They have a fastly growing following of marijuana users looking to connect online. You can ask questions about marijuana, cannabis or industry news and get a relevant answer from marijuana pros. Join groups and connect with other marijuana enthusiasts in niche-specific topics.
CannaSOS currently gets over 400,000 total visitors every month and they have a decent-sized following on social media. One of their best features is their strain review database that has thousands of marijuana strains with detailed information about each strain, its effects, THC ratios and more.
8. MJLink
This website is a cannabis business social network and directory that is newer compared to the others.
MJLink actually got $1.7M in funding in a Seed Round so they have some money to power this social network for canna-businesses.
Not only is it a great place to add your marijuana business but you can also connect with other like-minded business individuals like yourself.

It features news, friends activity feeds, products and even videos that are weed-friendly. They also own a couple of other similar types of sites like WeedLife and Hemp Talk.
9. 420 Magazine Forum


The Forums at the 420 magazine website are very active and a great place to connect with cannabis business owners.
They have plenty of forums from how to grow marijuana to political discussions. There are thousands of active members, asking questions, connecting and networking online at the 420 Magazine Forums.
10. Leaf Wire
Leaf Wire is a newer cannabis business social network for marijuana business industry professionals looking to connect online.
A lot of people compare Leaf Wire to LinkedIn in that you can grow your network, post articles, images, status updates, and share information about your canna-business.
There is even a marketplace where you can create a listing to list your services to fellow cannabis industry experts.
If you are looking to grow your cannabis network, sign up for free and check out Leaf Wire today!
Wrapping Up
In conclusion, there are a number of cannabis social networks for marijuana users to network and mingle online. Whether you are a cannabis business looking to network and make partners or a single stoner looking for a relationship, these cannabis social networks will help you connect online.