If you are a dispensary owner, cannabis lawyer, accountant, or any other cannabusiness, I'm sure you have had a hard time marketing your business online.
With the cannabis industry, there aren't as many digital marketing strategies you can implement since cannabis is still federally illegal in the USA.
But there is a newer cannabis video social network, like YouTube, but for cannabis-related videos only.
In this guide, we are going to show you how to get more customers and grow your dispensary or cannabusiness, with WeedTube.
What is WeedTube?
The WeedTube is a YouTube clone specifically for cannabis users.
Many marijuana YouTube influencers are getting shut down on YouTube for making videos about marijuana.

For this reason, Arend Richard decided to start WeedTube in 2015 with a few other cannabis influencers. Since then, it has grown to over 170,000 videos, 4,327,176 users, 75,000 app downloads, and 2.5 million users with organic monthly traffic of 30,000 visitors.
This makes WeedTube a great resource to market your cannabusiness online to a targeted audience of marijuana users.
Browse their categories to find the best niche to start building video content in.

Whether your cannabusiness is a dispensary, eCommerce store, or ancillary business, there is a category for you.
Now that you are familiar with what The WeedTube is, let's talk about how to use it to market your cannabiz.
How Did The WeedTube Start?
TheWeedTube.com was launched on March 1, 2018 by a group of deleted YouTubers in search of a site to call home.
Since its launch TheWeedTube has evolved into the home for curated cannabis content. A place where creators can not only have a guaranteed safe place for their content to live, but they can also be compensated for their hard work. TheWeedTube is also the first site to provide commercial based advertising for cannabis-related companies! As they continue to grow, TheWeedTube strives to provide all services with integrity. Be that for the viewer, content creator, or advertiser. Their mission is to provide for the community and provide a change in the perception of cannabis for the world.
What is Video Marketing?
Video marketing is the methodology of using video to promote your business, build trust with customers, and create a 1-to-many marketing channel.
When you deploy a video marketing campaign, you can generate great awareness for your brand and company online.
With the right video and message, you can build a steady stream of new customers and leads from your videos.
You can also use video marketing to keep your current clients up-to-date on your products and services.

How to Market Your Cannabusines on WeedTube
Using the WeedTube to promote your dispensary, cannabis product or cannabusiness can be a great way to get more exposure to your brand.
Here are the steps to marketing your cannabiz on the WeedTube:
1. Create & Optimize Your Profile
Registering for the WeedTube is super fast and easy. Simply head to their homepage and click the Login link in the top right corner.
Once the login form opens, select 'Register' to create a new account.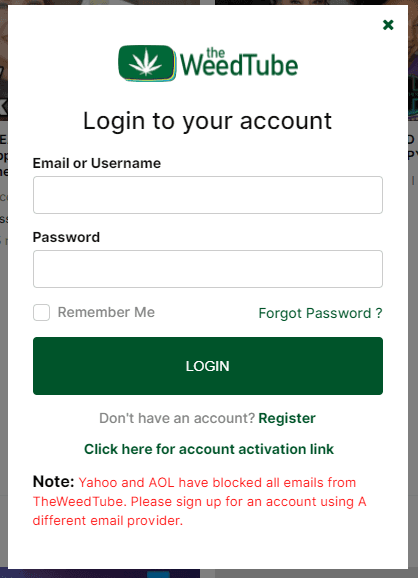 Enter in all your details and make sure to add your business email and a username that explains your product service or brand name.
Once you have registered your account, its time to optimize your profile.
In the top right-hand corner, you will see your account bubble. Click the dropdown and select 'My Profile' to edit your profile.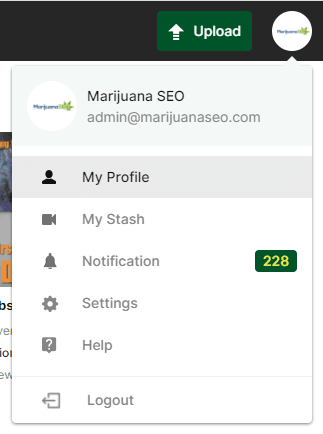 On the 'My Profile' page you can create an avatar, profile background, and playlists.
Be sure to add a high definition cover and avatar that makes your brand stand out and look professional.

Now that your profile is ready to go, its time to build video content and upload it to your profile.
2. Build Engaging Videos & Content
The hardest part of video marketing is usually coming up with content ideas and building video content.
Your videos should be engaging, educating, funny, or entertaining. The more of these attributes that your video has, the more watchers, followers, and customers you will get.
If you simply throw up a bunch of useless videos, people will not watch nor subscribe to your channel.
Here are some great evergreen video content ideas to get you started:
Product Reviews
Educational Videos
Product Unboxing (for B2C businesses)
Cannabis Information Videos
Cannabis Cooking Videos (for B2C)
Vlogs
How-to Videos (Like how to use your cannabis product)
Once you start uploading your videos, make sure that you optimize the videos for maximum exposure and eyeballs.
Create thumbnails that grab the eye and add text to thumbnails that explain more about your video. This can help get more clicks to your videos and more watchers ultimately.
Also, make sure that you add long video descriptions and a link back to your website or product pages. Doing this will make your videos SEO optimized so they rank better on the website and rank better in Google Search.
The key to getting a lot of brand exposure on video sites like WeedTube and YouTube is to create a lot of videos. They don't have to be super professional but they should have a lot of value to the viewers.
Try and plan to upload 1 video every 3 days or every week and after a while, you will have hundreds of videos being watched by thousands of people.
Next, you need to engage with your followers to build a brand following.
3. Engage With Your Watchers/Followers
A brand means that you have a voice. And in this day in age, people like to know what your brand's voice is.
Companies that engage with their followers see much higher brand trust and awareness.
I'm sure you have seen the Twitter wars between Mcdonalds and Wendy's, which brings a ton of views and a voice for the brand.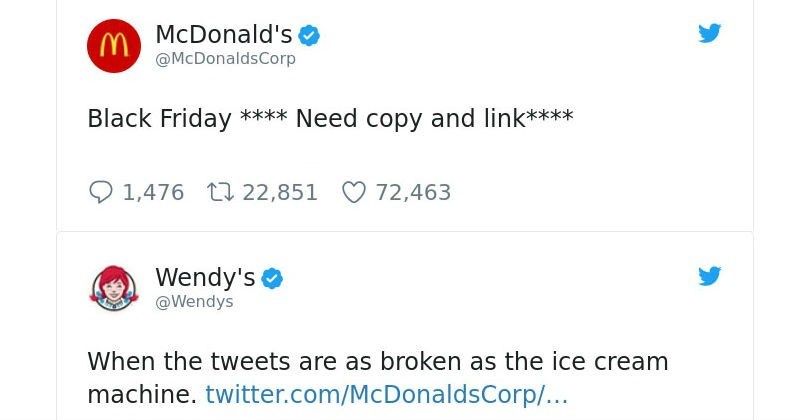 Simply reply to comments that people have, answer any questions that your followers ask, and create a community around your product or marijuana brand.
4. Promote Your WeedTube Channel
You can promote your videos and channel in a few different ways.
Embed Videos on Your Website
Embedding your WeedTube videos on your website can help them get more views and likes, resulting in better rankings on the WeedTube.
To embed a video on your website, simply go to the video you want to embed and click the share icon under the video.

Next, click the embed button and you will see a popup with the code to copy.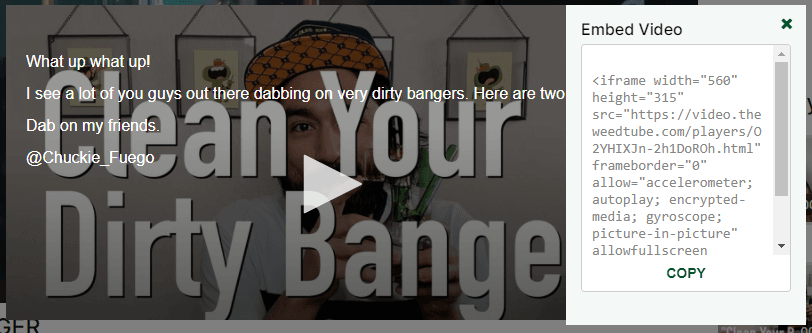 Now just copy the code and paste it in your website's HTML code where you want it to show up. If you are using a CMS like WordPress, simply click the text version of your post and paste the Iframe in your posts HTML view.
You should now see your embedded video in your content.
Share Videos on Social Media
You can also share your videos on your social media channels to get more views, likes, and comments on your videos.
Use a social media posting tool like SEMRush or Buffer to share your videos regularly on a scheduled basis. This will create a ton of views and visitors to your videos, website, and products.
Next, you can reuse your video content to build other pieces of content for marketing.
5. Repurpose Your Video Content
The cool thing about creating video content is that you can use it in a wide variety of other media for your cannabis brand. You can convert it into a ton of different formats to use as content for other platforms like Facebook, Instagram, or Youtube.
Build Long-Form Content
Now that you have a ton of videos, you can repurpose them into long-form content for your blog.
If you created a script for your videos, you can easily re-write the script into blog format, add images, internal and external links, and boom. You have some high-quality long-form content for your blog that can bring in more organic search traffic.
Another great tip is to add your embedded video into the content to generate more views as well.
Create Short Clips
Creating short clips of your content and adding subtitles is a great way to repurpose your content for social media. Many platforms like Facebook, Instagram, and Twitter don't allow long videos, so you can create small clips of informative tidbits and share these on social media channels.
Small clips are more easily consumed and will help grow your brand and social media channel.
Add Videos to YouTube/Vimeo
Now that you have a large collection of videos on the WeedTube, you can also add your video collection to other video sites like YouTube and Vimeo. This will increase each video's views and exposure on each platform.
Make sure that your videos are not against the YouTube or Vimeo guidelines or you may get your channel shut down (like a lot of people who are now on WeedTube).
Follow the same guidelines when adding videos as you would at the WeedTube. Add long descriptions, tags, a high-quality thumbnail, and a link back to your money pages in the video description.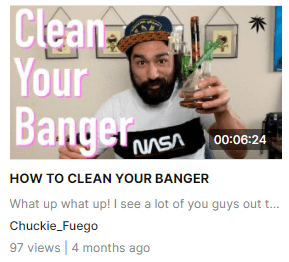 I would suggest writing a new description for each platform instead of copying the same video descriptions from each platform. This will ensure that the video descriptions are unique and there are no duplicate content issues.
Wrapping Up
In conclusion, The WeedTube is a great source of potential cannabis customers for almost any cannabusiness. Just build valuable video content that targets a niche or audience and you will see great growth in video views and sales for your cannabusiness.
And if you repurpose your video content, you can create a ton of other marketing materials you can use to grow even more.
If you need help growing your cannabis business with digital marketing, contact us today!