If you are a dispensary owner and you haven't heard of Google My Business, then you are missing out on a lot of potential traffic and new customers.
Google My Business can help you reach more customers online and off. If you are looking to grow your dispensary then this guide will help you get started.
I am going to show you how to create a Google My Business for your dispensary and optimize it to get more website visitors and more traffic into your dispensary.
What is Google My Business?
Google My Business (GMB) is a platform where you can create and manage your local business's online profile.
Creating and managing your GMB is super simple using their online platform. When you create your profile, Google will need to verify you are doing business at that location, so they will send a verification card by mail. Once you verify your business (usually takes about 5 business days) then you can be found online for your specific cannabis business. We will get into this more in-depth later in this guide.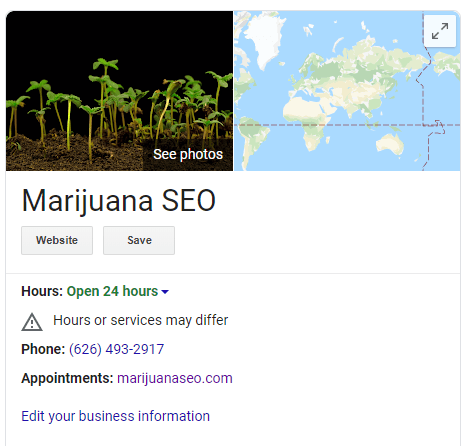 You also don't have to be a local business to have a GMB profile. Google has allowed businesses to hide their address and still have a Google My Business profile, which can bring in some extra visitors.
Why Google My Business is important for Dispensaries
You may be asking why Google My Business is so important for dispensaries. One of the most important reasons is that most of your customers will search for you online before even thinking about visiting your dispensary.
This means it vital that your dispensary shows up before your competitors or you may be losing a lot of potential customers. Another important reason is that customers who find you first are more likely to visit your store instead of your competitors!
Another important reason for using Google My Business for your dispensary is that local searches are the key to customers finding your business via Google. Here local search for 'Nevada dispensaries' where you can see 3 of the top-rated dispensaries in that area: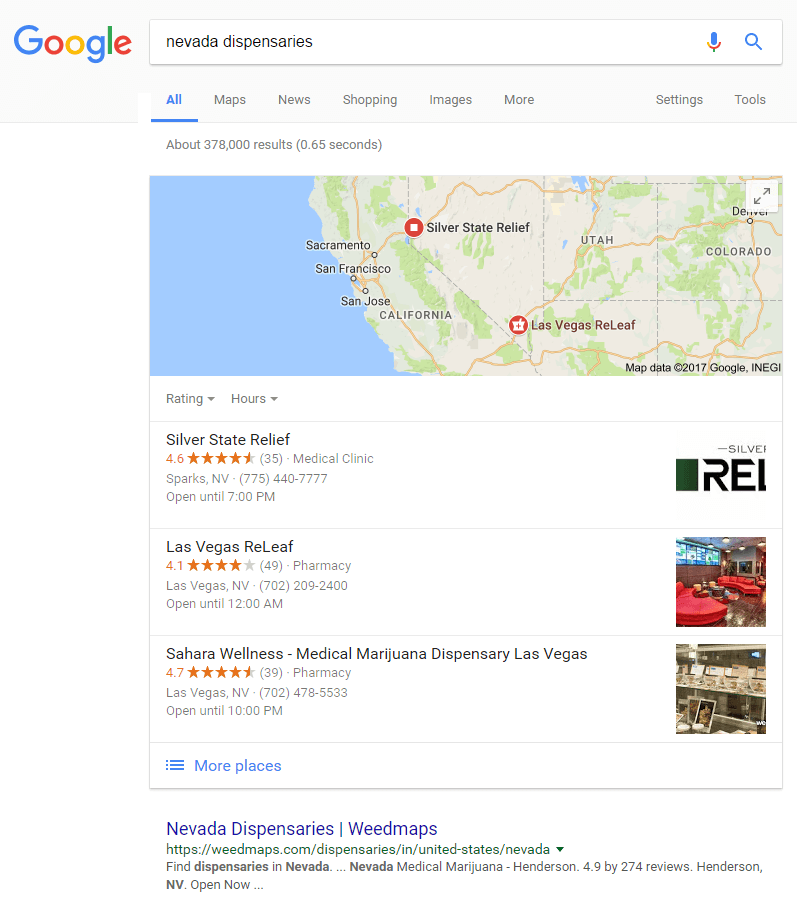 With Google My Business, your dispensary can be at the top of this list!
So now that you are aware of what GMB is and why you need it, let's get started setting up your first Google My Business profile.
How to Claim Your Dispensary on Google My Business
If you already have a Google My Business for your dispensary, then you will need to gain access to it to manage and optimize it. If you do not have a GMB profile, then you skip to adding your GMB profile.
To see if you have a Google My Business location, simply search for your dispensary name in Google and you should see a listing to the right: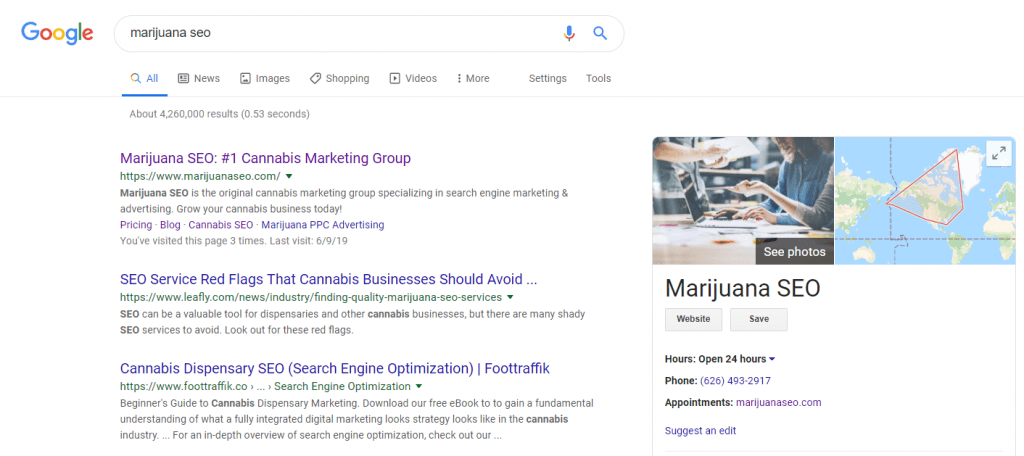 Under your profile on the right, you will see links to 'Suggest an edit' or 'Own this business?.

Click the 'Own this business?' link to request admin access to your dispensaries GMB profile.

In order to prove that you are the owner, Google is going to send your business a postcard to the address on the profile.
The postcard takes about 4-5 business days to reach your mailbox. It will have a random 6 digit code and a URL to visit to add the code. Once you recieve the postcard from Google and enter the code online, you will now be the owner the GMB profile. You can now edit the hours, attributes,
How to Add Your Dispensary to Google My Business
If you are a new dispensary or you have never had a Google My Business, then read on how to add your dispensary to GMB.
Adding your business to Google My Business is pretty simple. Just head to Google My Business and click the big green 'Start Now' button.
Fill in the appropriate fields in the 'add your business' form.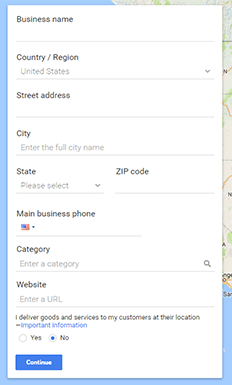 Make sure that you copy this information (or write it down) exactly how you have added it here. We are going to add NAP(W) (name, address, phone, website) citations to more directories and consistency is very important with these citations.
When you have added all the details about your business, making sure everything is correct and spelled right, click 'Continue' to confirm your Google My Business listing for your dispensary.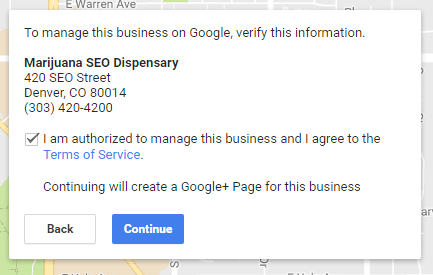 Once complete, Google will mail you a postcard to your dispensary in about 4-5 days.
When you receive the postcard, it will have a 6 digit code on it that you will use to confirm your dispensaries location in Google My Business.
Your dispensary should now be view-able in Google Places, Google Maps, and in Local searches like these: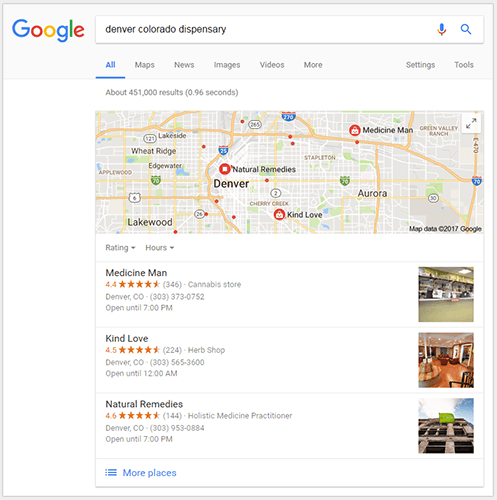 GMB Optimization for Dispensaries
Most of the time, creating your GMB profile is not enough. There are a few more things that you should do to optimize your profile. On the info tab in your GMB management dashboard, you can edit all of the information about your dispensary.
For maximum exposure do the following:
Set The Correct Category
Many dispensary owners set their category to 'Store' or 'Drug Store' but these can provide irrelavant searches.
You can now actually choose 'Cannabis Store' as the category for your dispensary.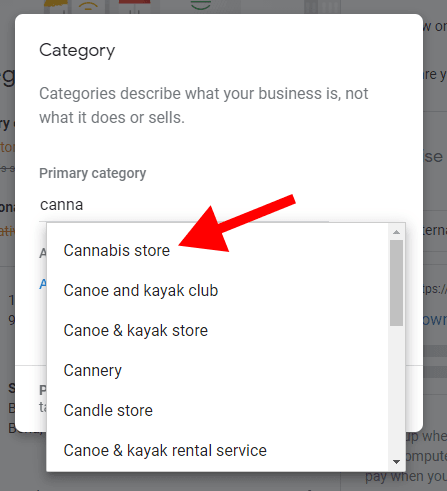 Setting this category correctly will result in much better results of searchers who are actually looking for a dispensary or cannabis store.
Add Attributes
Attributes are a newer feature to GMB that allow you to add informative tags to your GMB profile that can make it stand out more.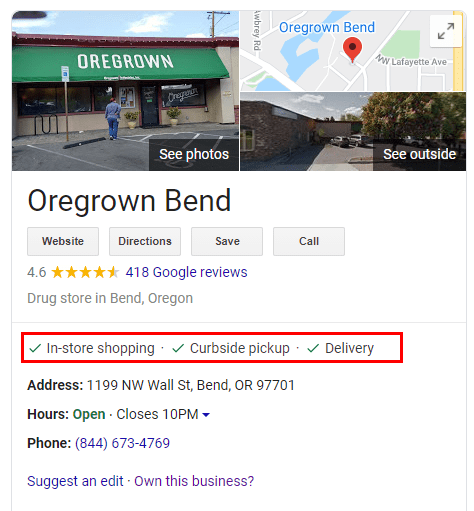 Adding attributes to your GMB can help keep your customers in the know, as well as get more clicks and visitors from Google.
To add attributes, simply head to the Info tab in Google My Business and click the Attributes section.
Add any relevant attributes by clicking on them to select them. Click save and the attributes wil lbe visible on your Google My Business profile shortly.
Add External/Internal Photos
Another way to stand out in the rankings is to add photos and videos to your profile. Photos can help your listing stand out as well as give potenteial visotrs an idea of what they are visiting.
Ideally, you should add external images of your building, parking lot and cross streets, as well as images of the inside of your dispensary.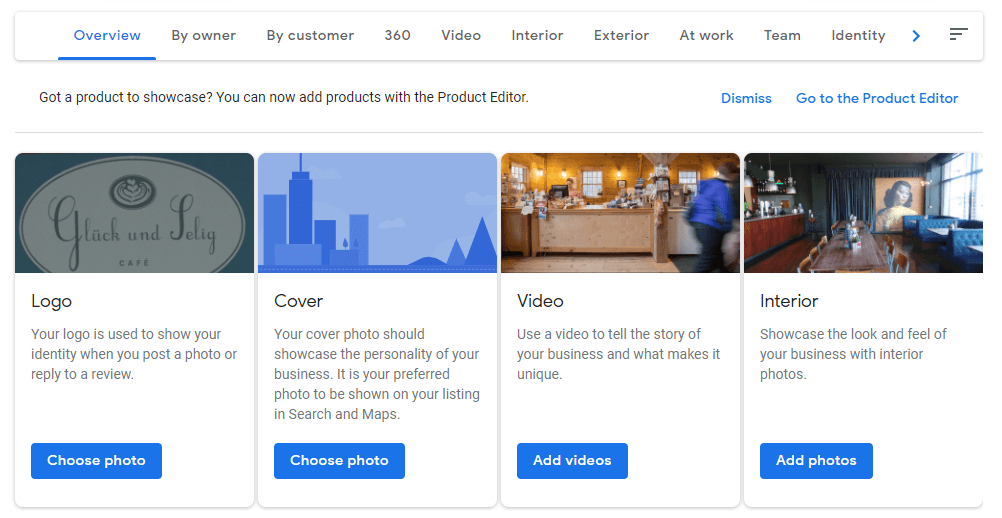 You can even add photos of your staff, brand photos and any other assets that are rellevant to your business. The more images the better because these can bring in more traffic as well.
Get More Reviews
You may be wondering how in the heck you are supposed to have customers go online and fill out a form to give you a review.
But its actually easier than you think it is.
The first step to getting online reviews is making it easier for your customers to find. Link to your review profiles in your website footer so people can easily access them.
You can also offer a discount or promotion for current customers by giving you a review. This can really boost the number of reviews you get online.
The best way to get reviews online is to provide a great product or service and this will bring in a plethora of reviews to your online profiles.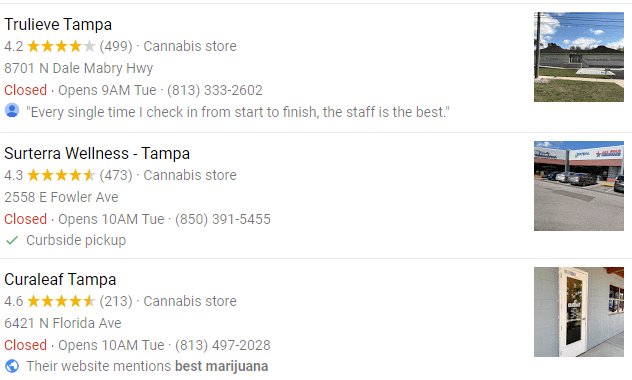 Add Dispensary Products to GMB
Google is finally giving some more leniency and options for dispensaries to optimize their Google My Busines profiles even more.
They are about to launch a new feature for dispensaries that will allow them to add their products to GMB so that they are listed in Google Maps. This will give you the ability to increase your in store visits and online sales.
Although this hasn't officially launched yet, we are very excited to offer this service to our current and future clients as a part of our SEO packages.
Wrapping Up
In conclusion, if you are a dispensary owner you should definitely be using GMB as a marketing tool to bring in more customers to your website and store. Some of our clients have seen over 400% increases in calls, visits, and new customers form their Google My Business profile.
Message us with any GMB questions you have or check out our Local SEO packages that include Google My Business creation and optimization.