So, you are thinking of using Google Ads (previously Google Adwords) to advertise your marijuana or cannabis business online. If this is the case, I have some good news and some bad news for you. I'll give you the bad first.
The bad thing is that technically, it's against Google's TOS to advertise marijuana or marijuana-related businesses on Google.
The good news is that it is still possible to advertise on Google Ads with the right methods.
What are Google Ads (Adwords)?
Google Ads are Google's auction-based advertising system that allows you to display ads for common search keywords in Google. You can tell Google Ads results by the little green ad label next to a listing.
Here is an example of some Google Ads:

They show before organic results and sometimes on the right side depending on which device you are searching on.
How Does Google Adwords Work?
Google Ads were on an auction-based system. You bid a set amount on where you want to show up among competitors (if any). This bid is set on a cost per click basis… that means you are willing to pay $x amount per click to your website.
Let's say the highest cost per click (CPC) for the keywords 'marijuana SEO' is $1.00. If we wanted to show up in the first position, then we would need to set a minimum bid of $1.01. Then, if someone clicks on the ad, we would get charged $1.01.
But Google also looks at a number of other factors like the click-through-rate of the ad, the landing page experience, and the ad text relevance. If your ad has a good click-through-rate for certain keywords, your ad will show more with a reduced cost per click because Google thinks its a good ad and is providing a good experience to their users.
Here is a simple graphical explanation of how it works, from Wordstream: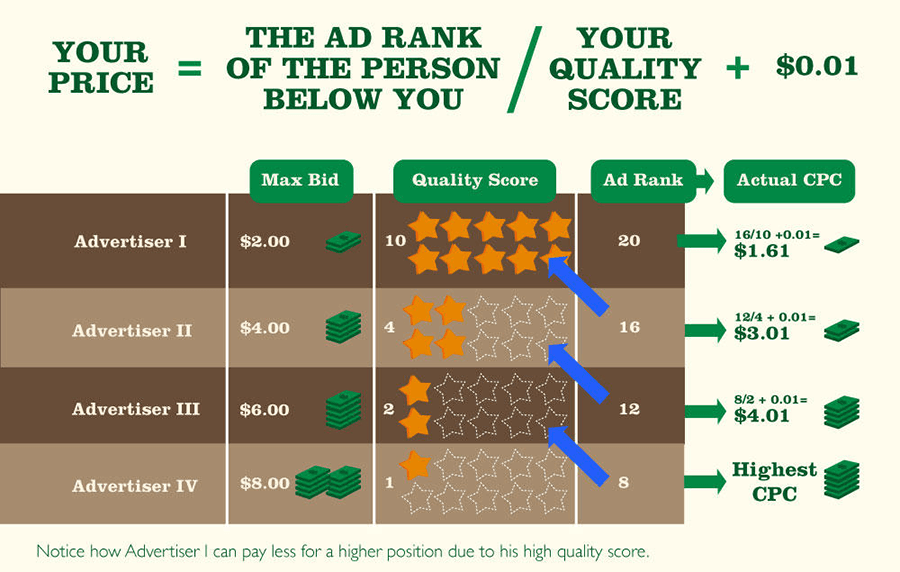 There are many other factors and inner workings of the Google Ads system but this is basically how it works. But how much does it cost to advertise on Google Adwords?
Well, it can range but if you have keywords with a lot of competition, you can pay a hefty price per click.
How Much Do Google Ads Cost?
To show ads on Google, you will pay anywhere between $0.01 and upwards of $100 per click.
Depending on the competition, niche, service, and cost of the product, the CPC can vary widely. In the marijuana and Cannabis niche, it's pretty low since there is basically no competition because it's again the Google TOS to advertise for marijuana.
In our experience, we have seen an average CPC of $1.50 but in some ancillary businesses like CPAs and Insurance providers, we have seen upwards of $10 per click.
Marijuana & Google Ads TOS
Cannabis and Marijuana fall into Google's advertising policy, Dangerous products or services. Which states that recreational drugs are not allowed to be advertised for on Google Search or Display. Here are Google's exact words: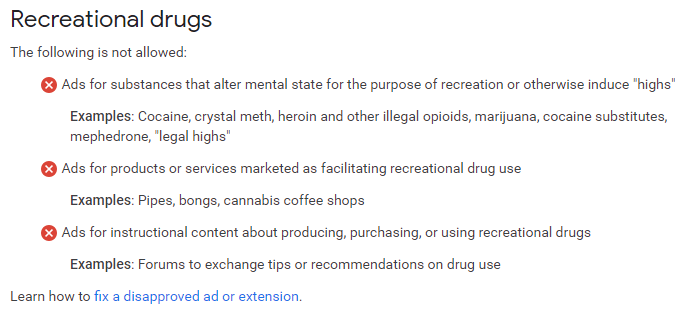 This doesn't necessarily reference any ancillary businesses that provide services like cannabis accountants, marijuana insurance or even marijuana marketing but if you are to try and create ads, it's likely they will get disapproved.

But why is this? There are plenty of other marijuana businesses out there advertising on Google:

Well, its somewhat of a process, but it is possible to run ads in Google for marijuana businesses. We do it for a number of clients and are seeing some good success.
Cannabis & Approved Google Ads
Getting Google to approve your cannabis or marijuana ads can be tricky. Their algorithm is very good at finding ads related to recreational drugs and taking them down. But we have figured out this algorithm and have some great ways to advertise for marijuana dispensaries, delivery, doctors, insurance providers, P.O.S. providers and more.
Ad Text & Headlines
Getting your cannabis ad to be approved on Google Ads will require picking the right ad text and headlines. If you use certain keywords in your ad text or headlines you may get flagged instantly. This means using keywords like:
weed
marijuana
cannabis
drugs
bong
You have to be somewhat careful what you choose as the algorithm has certain words that it automatically finds and disapproves your ad.
Choosing Keywords
As with the ad headline and text, you will want to be careful when choosing the right keywords to advertise for on Google. Using the above keywords may get your ad or keyword flagged and inactivated. A good tip is to use keyword modifiers instead of basic keywords. This means using keywords like:
Disapproved URLs
If your ads get disapproved to often, then the Google Ads algorithm will 'flag' the URL or domain that you are using to send the traffic to. This means that when you try to create another ad with that URL, they will automatically ban it. This happens often when you are advertising in this space because technically, it's against their TOS.
When this happens, you will either need to create a new domain or set up a landing page to redirect the traffic. We do this often for our clients and charge 20% of your monthly ad spend to keep the Ads going.
Aged Accounts
Google treats aged accounts with more leniency than if you create a brand new account. If you have access to an older account, you may have more luck getting approved on Google for advertising. If you have a new account that gets disapproved too much, they will simply suspend the account, but if you have an aged account they will just disapprove your ad and URL.
Optimizing Marijuana Ads
Now that you have ads running, its time to optimize, optimize, optimize.
Why run ads if you can't get a good ROI on your investment?
Installing Google Analytics and Adwords Conversion tracking will help you find the best keywords and the best performing ads. Once these are installed and set up, you can track how much you spent and how much you made through each keyword and ad.
This type of information is vital to getting a good return on your ad spend for your marijuana company. If you are spending a lot, but not getting results it could be due to a bad landing page, low ad rank or bad keywords.
Google Ads for Marijuana Businesses
If you run an online dispensary, ancillary business, grow-op or even manufacturing, we can help you get approved with Google Ads. We have been advertising on Google for over 10 years and can help you generate more leads and sales with Marijuana PPC advertising.
Whether you can't get approved, don't have the time or just want highly experienced professionals to manage your ads, contact us today.